This post may contain affiliate links. Please see our full Disclosure Policy for details.
DIY Paint Chip Crafts (Paint Chip Craft Best Ideas). Paint Chip crafts are so amazing and are nearly inexpensive DIY Projects. You can turned anything from simple to a statement art using them and they look much better than simple scrap book paper. You will be amazed by some really great ways to incorporate paint chips into your DIY projects and crafts.
DIY Paint Chip Crafts
I like this idea of using paint chip circles in various colors. Make paint chip note cards.
The geometric circular Paint Chip Wall Art pattern is so happening.
Simple projects are always on my list.
These Paint chip bookmarks are sure to look cute. I also like the design she drew on them
Make colorful Banners with fun words like this one. Stars & Stripes banner.
These paint chip flowers are so innovative. And can be used in so many great projects. See how Ali Lilly made a pretty wreath with the flowers.
DIY Paint Chip Crafts
Colorful paint chip magnets. Make your file cabinet, fridge and more look extraordinary with them. Glue paint chips onto magnetic strips cut into blocks!
A genius idea to make a Family Word game using Paint chips. Great for kids learning and family fun time.
A cute flower Paint chip garland. This Paint chip mobile is just perfect for a nursery. Or little girl room's decor.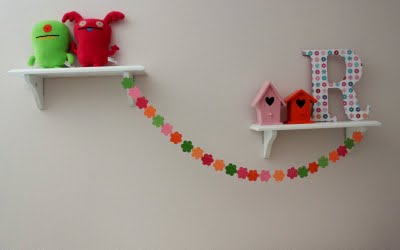 Want a different kind of invitation idea. Here's one at Chica and Jo using paint chip and translucent paper that is sure to look awesome.
Use circular paint chips in different sizes to make cool patterns.
Circular Wall Art at Circular paint chip art.
DIY Paint Chip Crafts
 I love the use of crackle medium on paint chips. To make this beautiful Clock.
See how you can make a paint chip DIY clock at Crafts by Amanda.
Fun, fun , fun. I love these red,blue and white stars sewn together.
Fourth of July Garland by How Sweeter It Is.
Don't you just simply adore these Woven Paint Chip Wallets?
Mark Montano shares a terribly easy tutorial to making these credit card holders.
Love the cuteness of this Ikea The Ikea Clock Makeover.
Give an Ikea clock a new makeover using Paint Chips.
Simple and sweet idea. Paint chip and paper mache nursery decoration.
Paint chip embellished paper mache letter.