This post may contain affiliate links. Please see our full Disclosure Policy for details.
50 Henna Designs simple – easy bridal and party hand ideas exclusively at Craftionary by Paisleys and Swirls.
Today I am sharing 50 Henna designs that are simple and easy yet unique and inspirational for bridal henna and party henna. People in different parts of the world like to call it different names. So you may know it by mehndi, mehendi, mehandi, or even tattoo.
There are a variety of combinations that all mean the same traditional art of making beautiful patterns and motives on the hands. It's a very popular technique that involves drawing patterns on skin using henna-based ink. The henna ink is filled in a cone which is shaped like a pen with a tip at the end from where henna is applied.
In Pakistan and India, henna tattoos are always in trend. Henna is a plant which is grown in India and Middle East. Henna leaves are dried and crushed in a powder and mixed with water to form a paste. It's ingredients have evolved overtime to bring more vibrant tint when it dries and so tea and lemon are also popular ingredients.
A bride is not complete without henna designs on hand and feet. Whether its Bridal henna or party designs unique and new patterns are always a gift. It's the way you get dressed up for the occasion. Jagua is the new trend which gives a tattoo look and now white henna is also trending.
Henna Designs
Today I am sharing 50 simple and easy bridal and party henna designs that are modern and new.
Bridal mehndi designs
A bride mostly has full hands till elbow or above designed with stunning patterns. Let's check them out.
I am in love with this idea of band at the top with floral border. It looks like a lace. The patience and command one needs to make a straight line in single go is very impressive.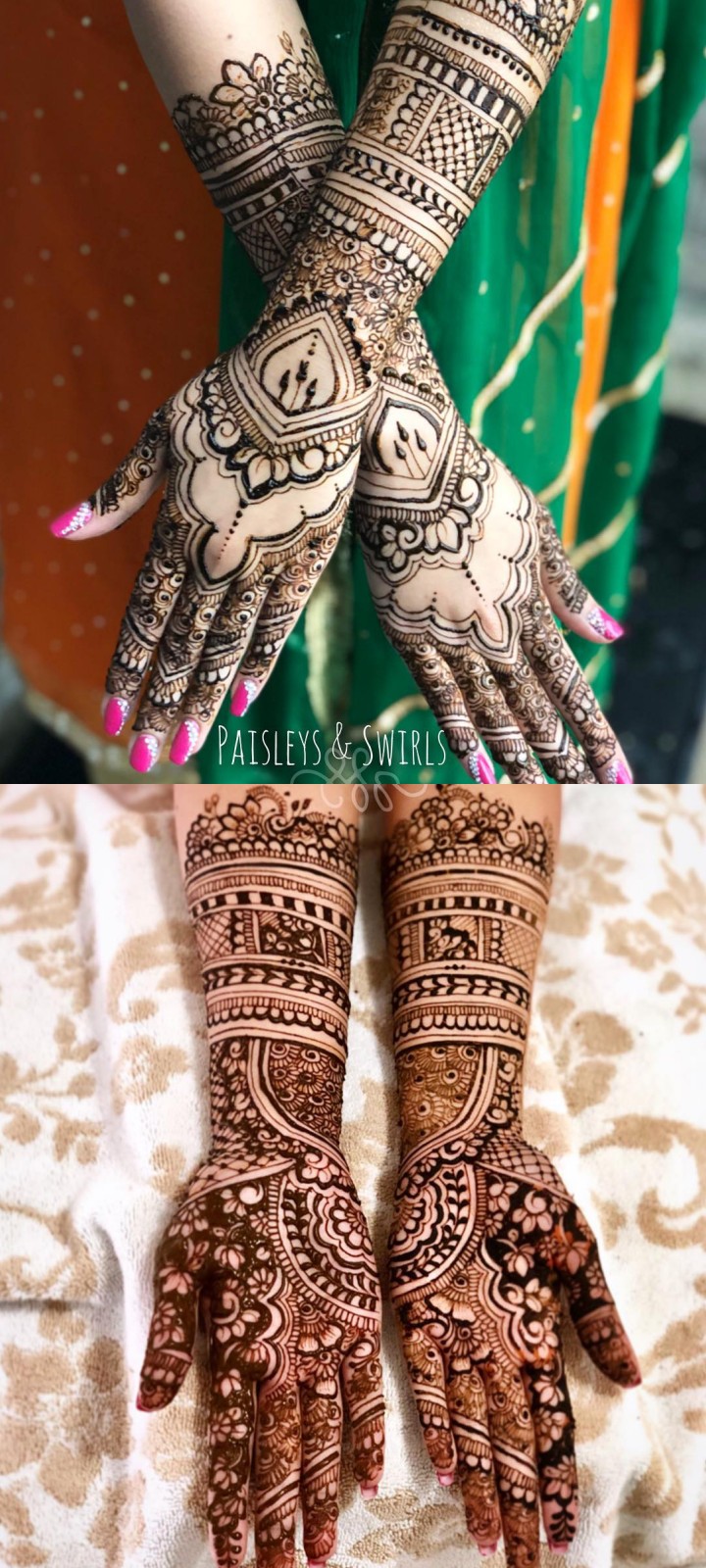 The half-hand filling henna patterns are very common. The pattern with empty space makes the mehndi designs stand out and look stylish.
Easy and simple bridal mehndi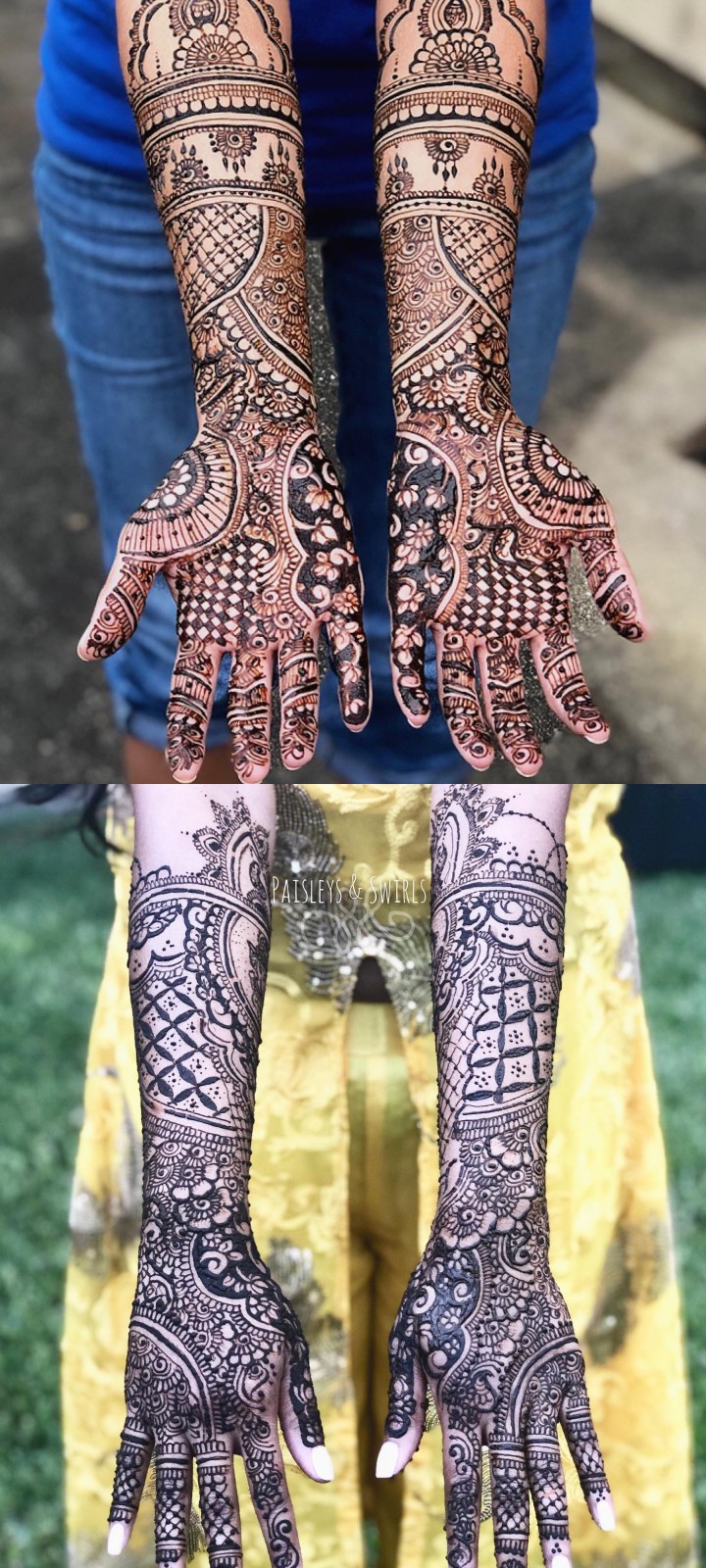 The paisleys, swirls mandalas and four-leaf clovers when combined with traditional flowers makes the feminine look more unique and cultural. The checkered and dots are used to add details to empty spaces and form an extraordinary pattern. And finally the florals and stripes complete every bridal designs whether Arabic or Modern.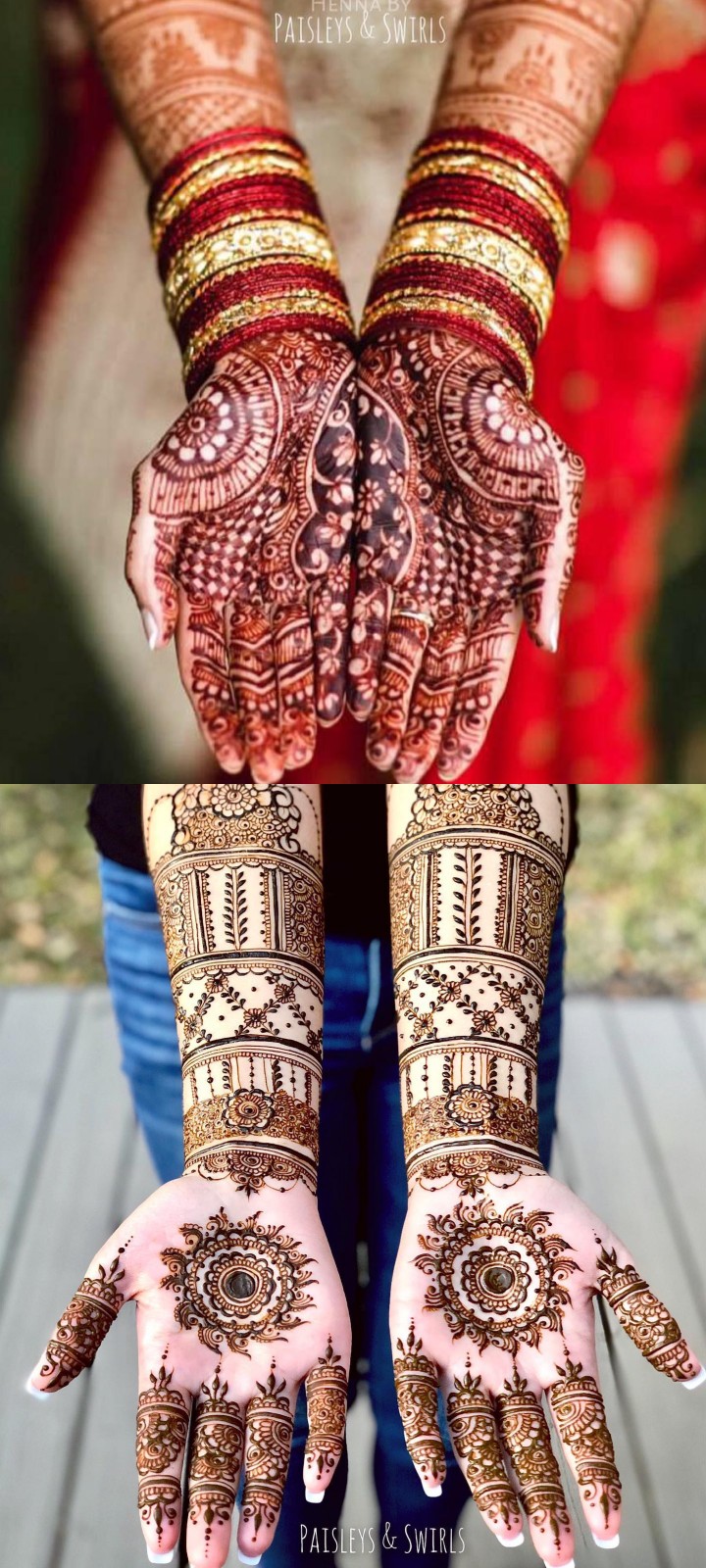 How special is this pattern inspired by the mustache trend in the past! I am sharing this as an inspiration for improvising trends in henna designs.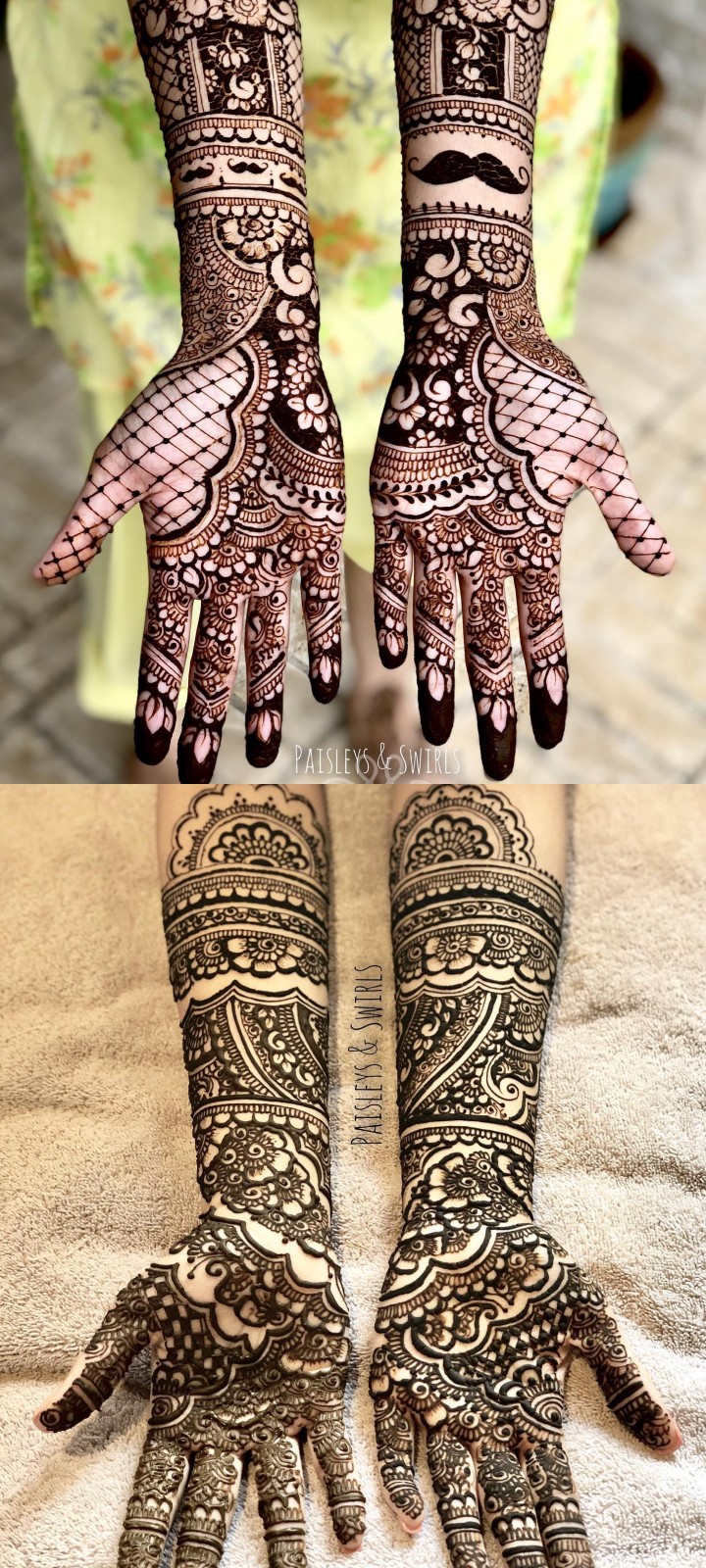 A stunning piece of art. I am wowed by the accuracy of these patterns. The artist has utilized the bride's life events in a simple but hidden way.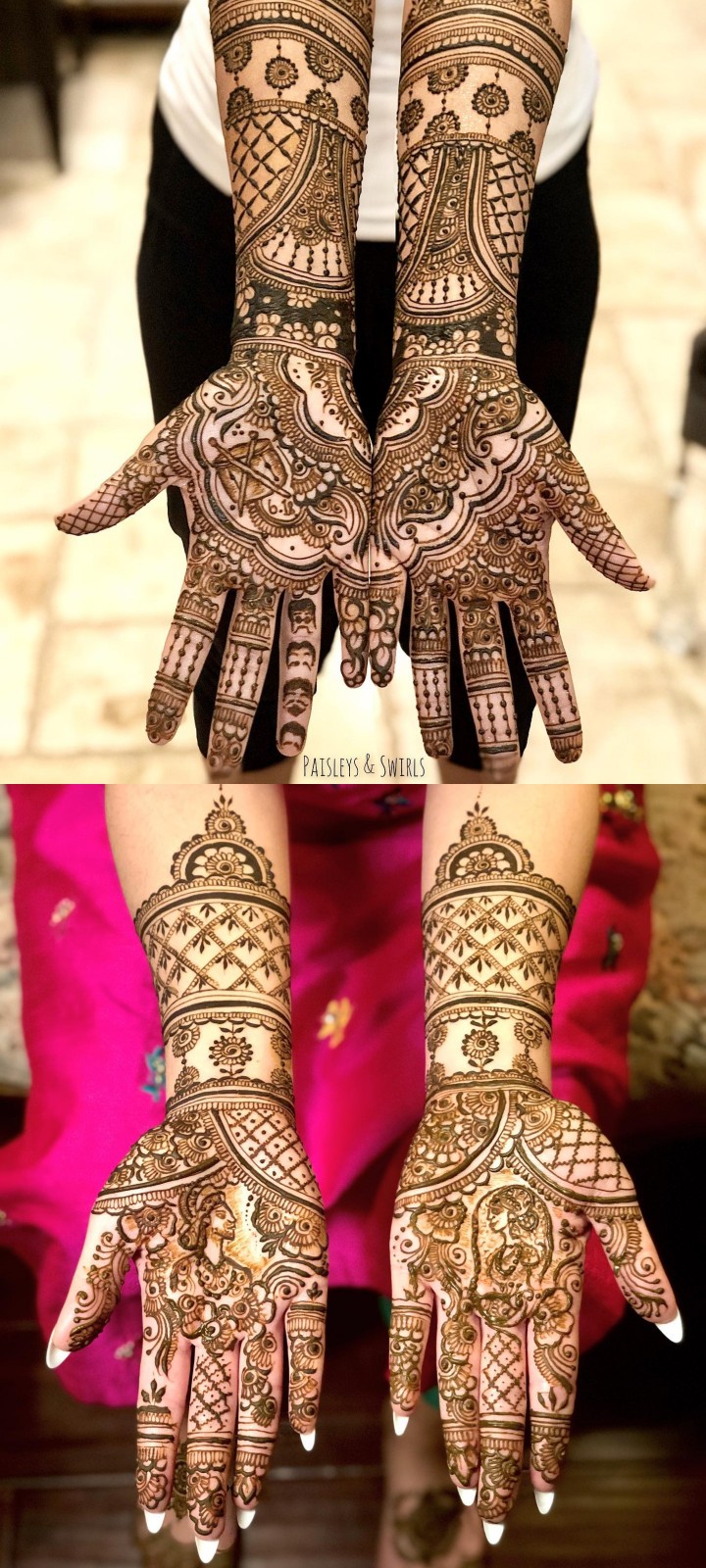 I want someone to put this henna on my hands. The unfilled floral path makes the design interesting.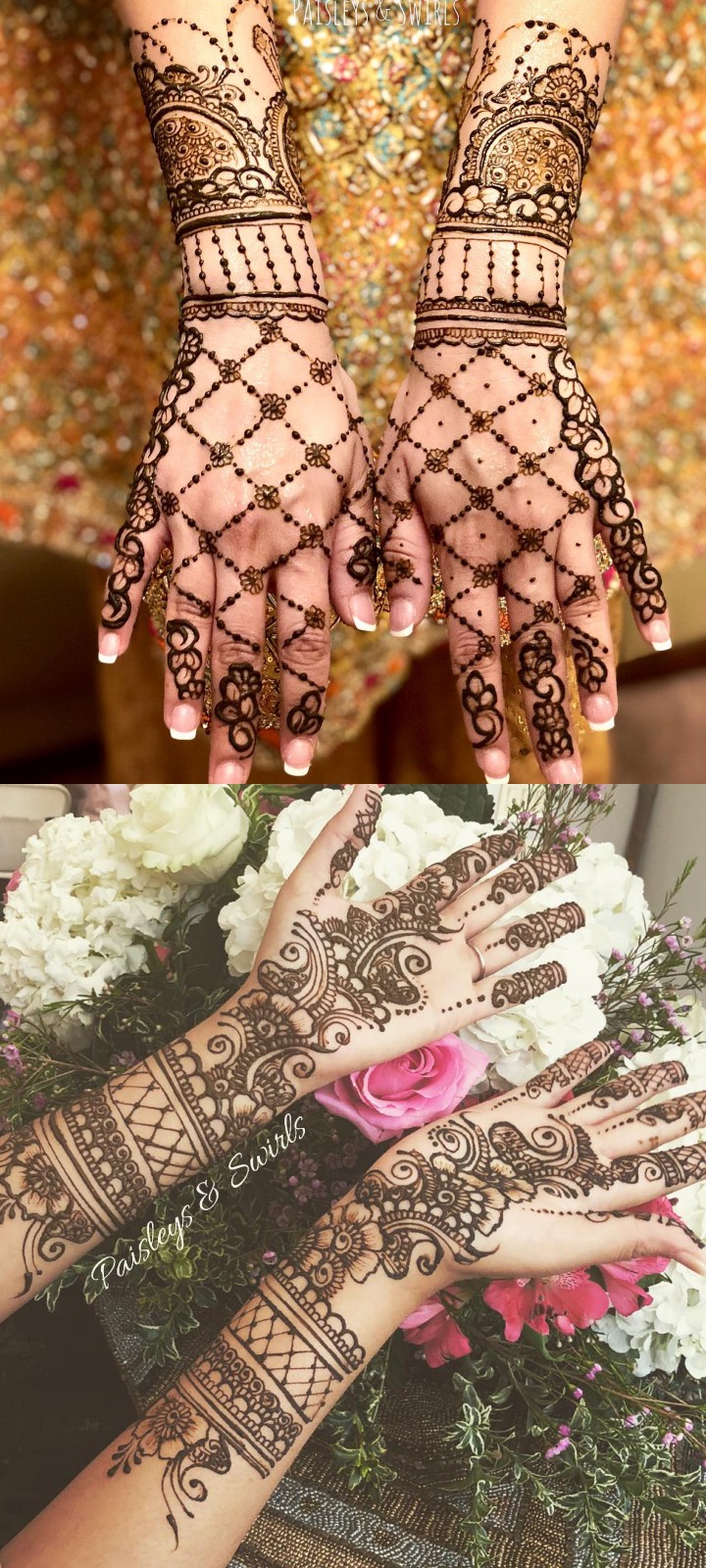 Party henna designs
Party patterns are great for the bride's family and friends.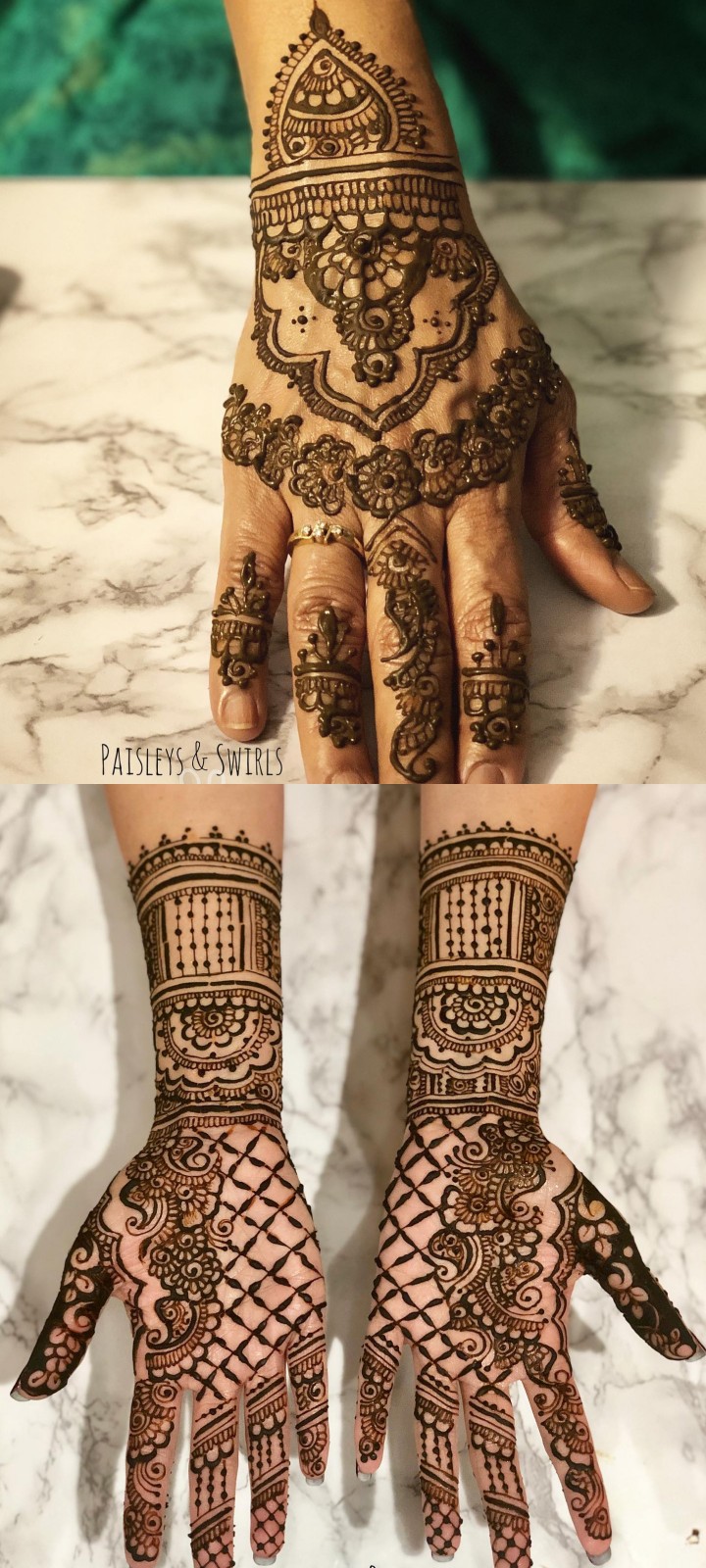 Trendy mehendi for girls.
Simple fingers with motive on one finger.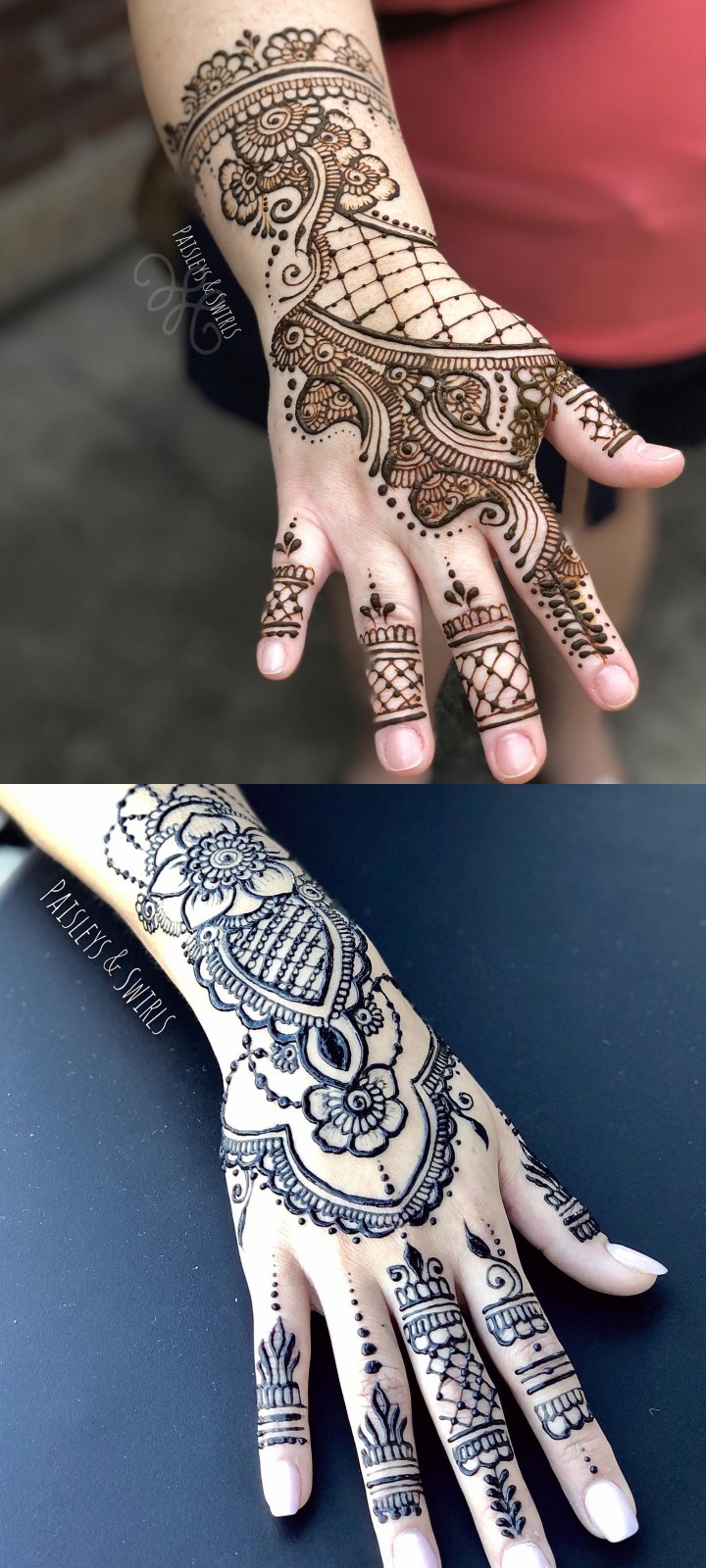 Simple mehndi designs
Some great ideas that anyone can put on their hands. You don't need a professional to make these fantastic patterns. These ideas are easier to copy by looking.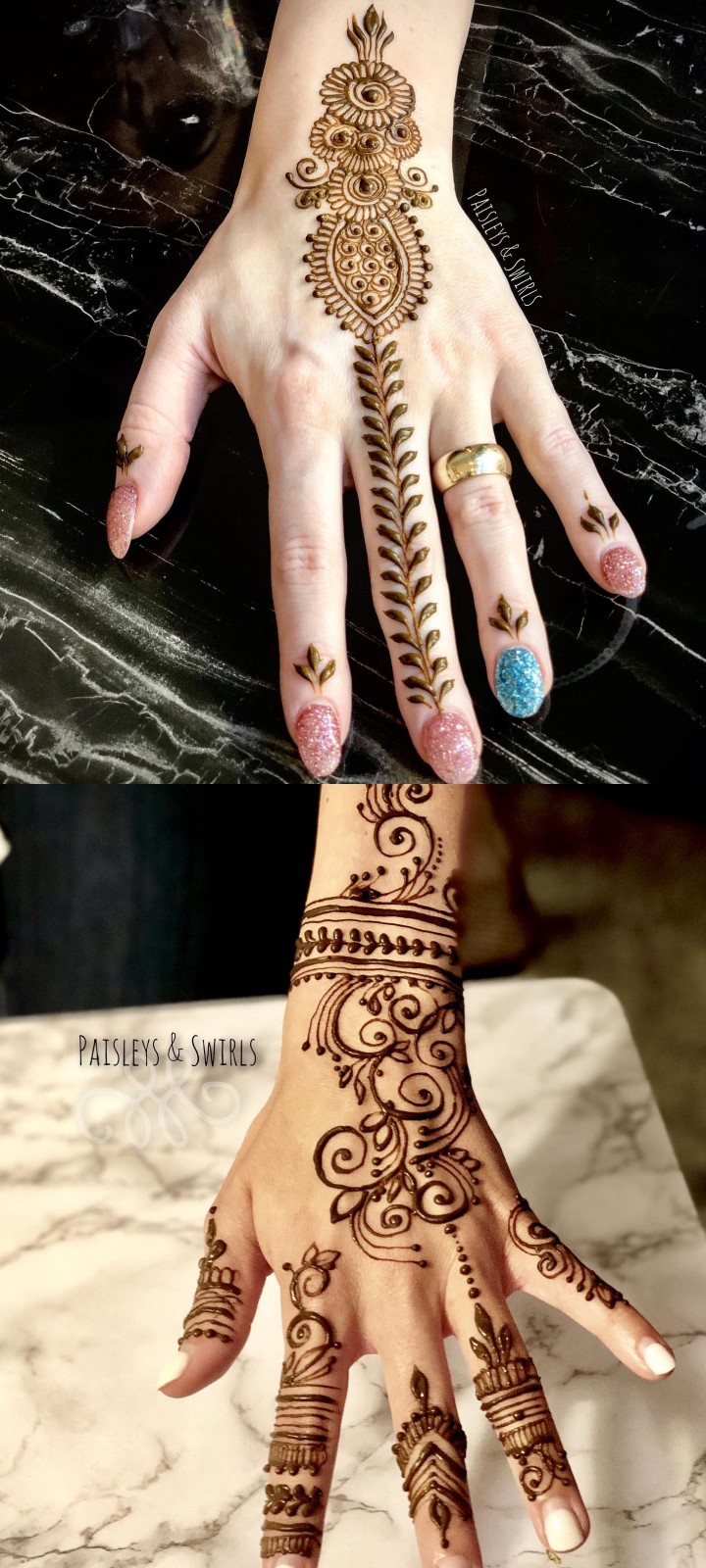 Finger focused henna tattoos replicating the bangle and ring look on a woman's hand.
Inspired by jewelry these ideas are simply adorable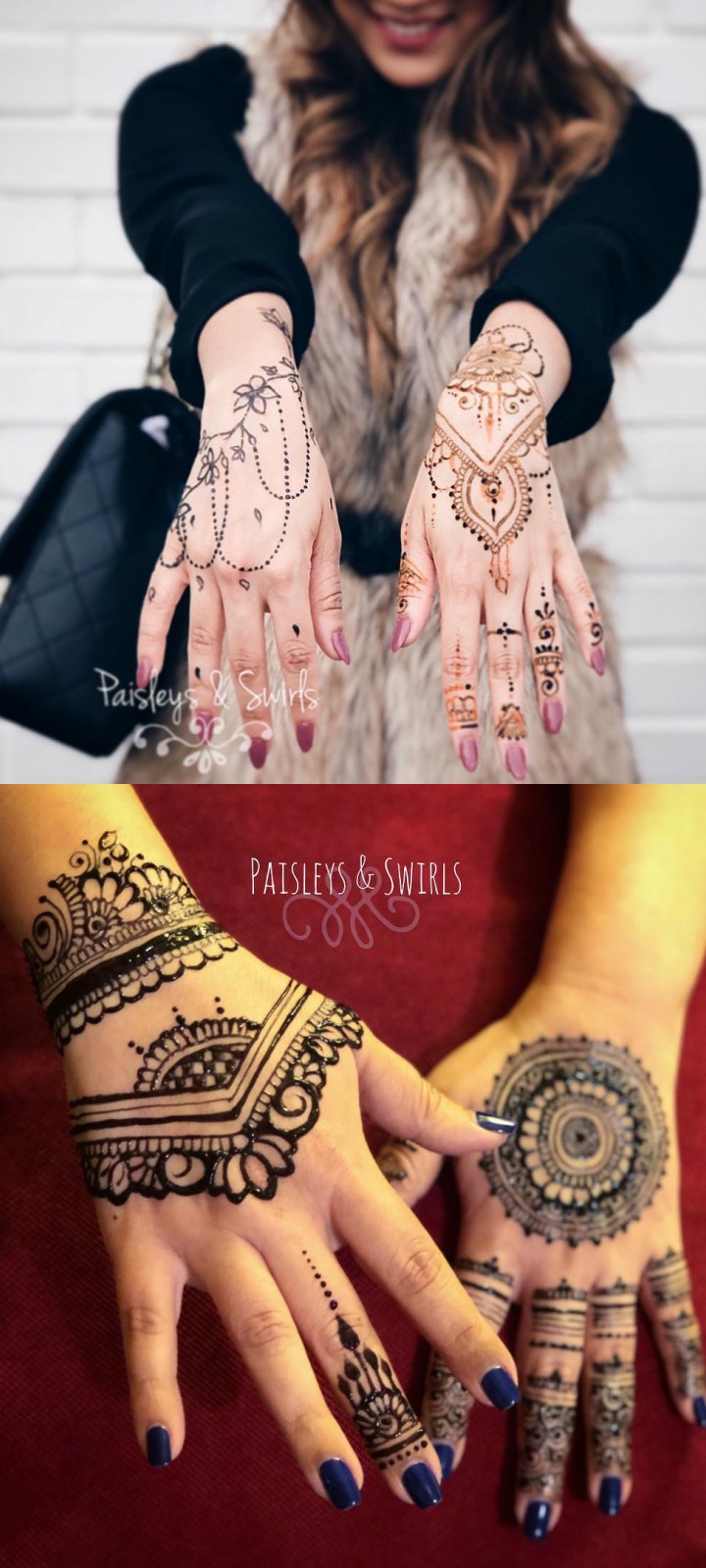 Modern henna designs
Beautiful impact of simple swirls and combination of bands on the arms.
New and latest Henna trends
Henna Tip: Cover your henna when dry to avoid flaking and keep it on for a darker color while you continue with your life.
So, now we know Henna is available is white as well. How amazing is that for a church wedding? What are your thoughts? We would love to hear?
Jagua Henna ideas
Jagua henna is the new trend. The stain from jagua is the same as tattoo. This non-permanent tattoo is a great substitute. It's all natural ingredients makes it perfect for application.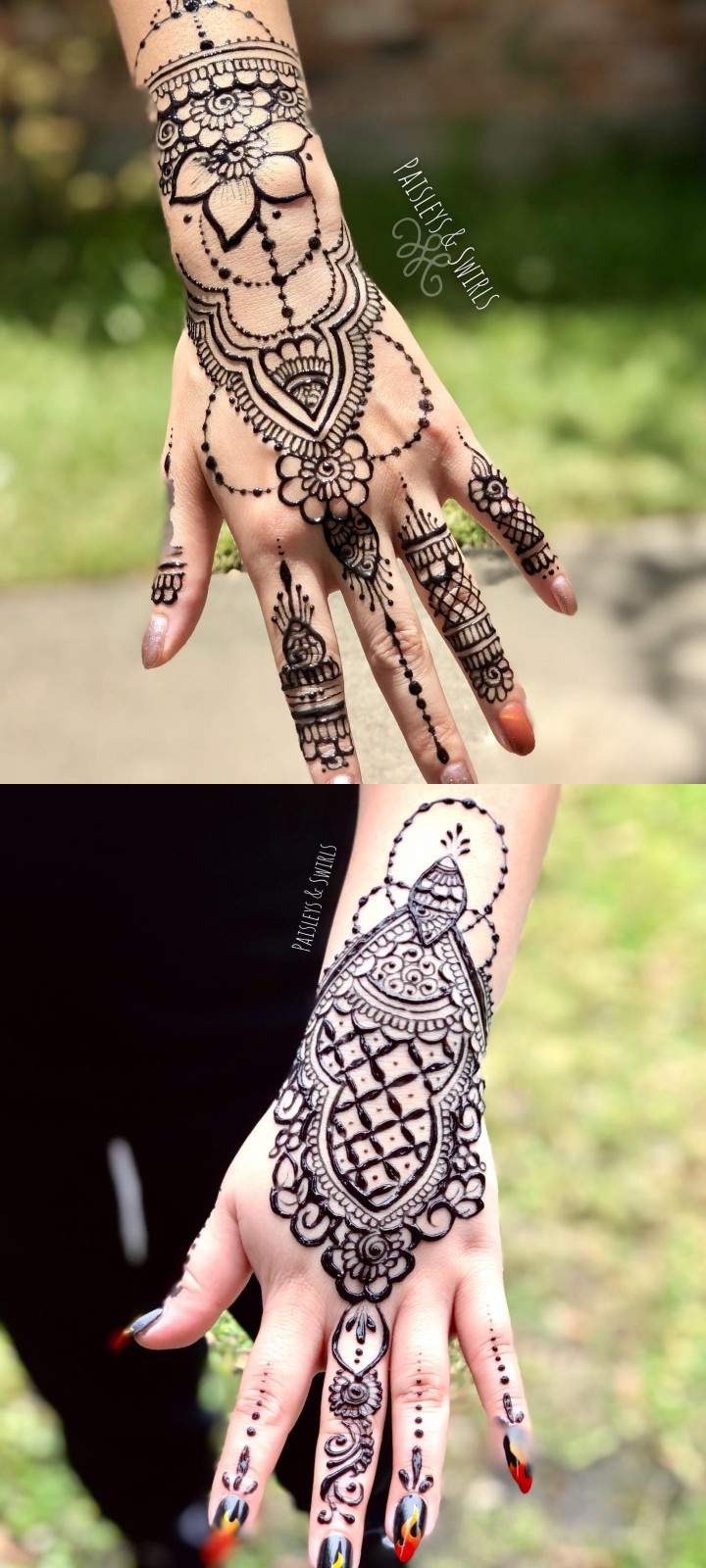 Baby shower henna ideas
I am in love with these baby shower mehendi designs. A soon-to-be-mother would love some beautiful artistic memories inspired by swan, a cradle and a mom and baby bonding. All these covered with layers of florals and swirls.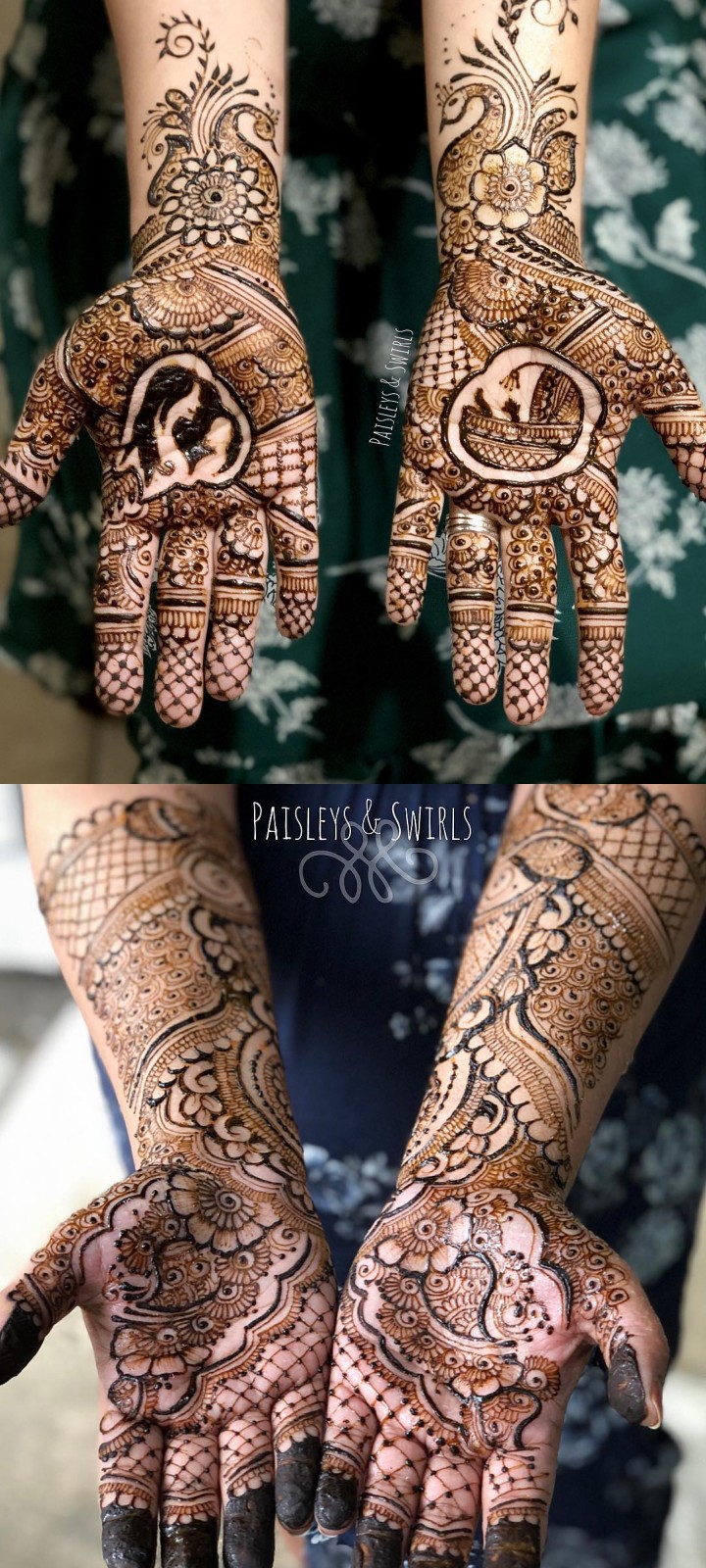 Paisleys and Swirls – The Artist
Find all these spectacular ideas at Paisleys and Swirls. Check out her website for more information. While you are there, don't forget to let us know how amazing she is and encourage her to create more stunning henna art inspired by her beautiful mind and soul. Her ideas are inspired by her client's personality and she loves to improvise their ideas into making henna designs.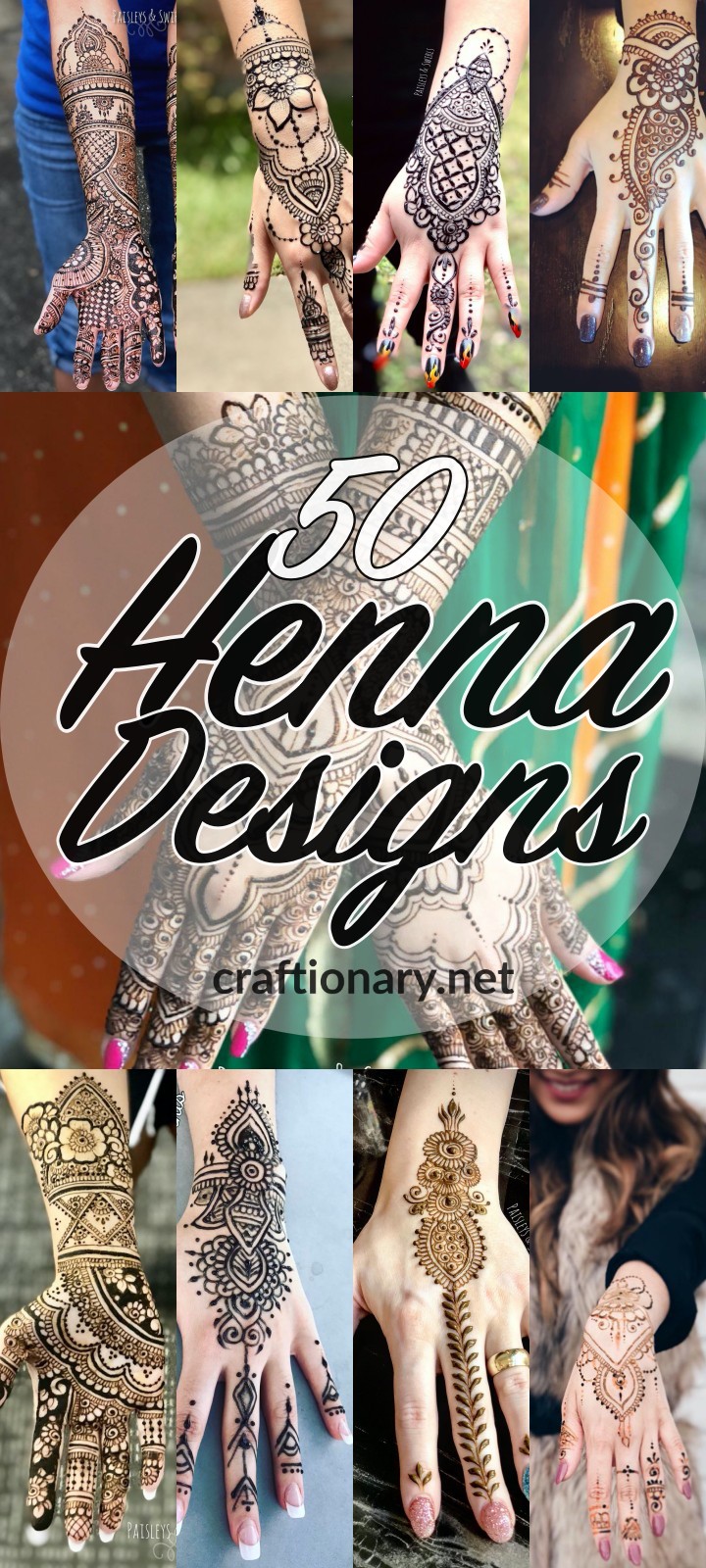 You will also like: