This post may contain affiliate links. Please see our full Disclosure Policy for details.
Heart ideas for handmade gifts. I am sharing 10 ways you can use hearts in your home.
These cute ideas were linked up at last week's Friday link party.
Heart ideas are also great for other beautiful love moments in our life.
Like anniversaries and birthdays. And not just Valentine's Day!
These heart ideas are also a good inspiration for handmade gifts.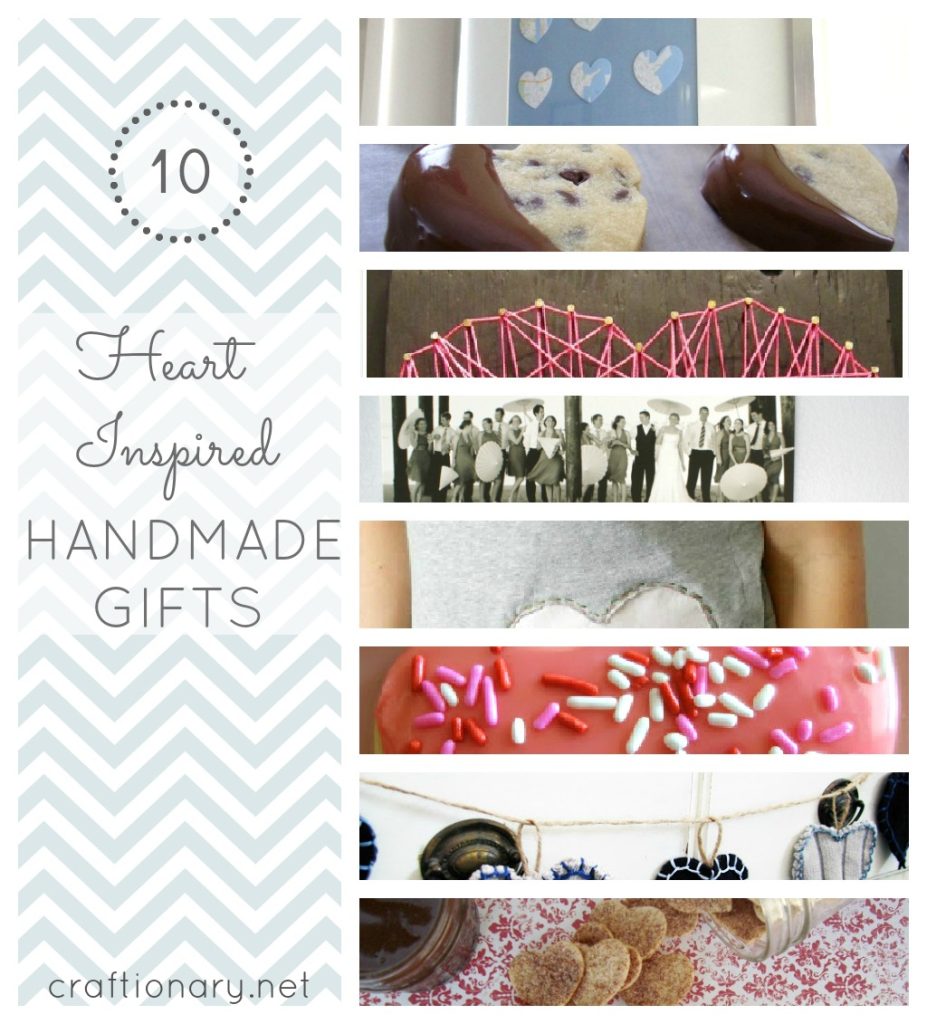 Here they are:
10 Heart Ideas for Handmade Gifts
1. DIY Hearts Art
Cut hearts out of a map. Can be a special place. And make a Hearts specimen art.
You can even sign the frame for custom touch.
Heart recipe ideas
2. Heart dipped chocolate cookies
Cute Chocolate chip cookies. Half dipped in chocolate.
Think about writing your initials on the other side.
3. DIY Burlap Garland
Say love in different languages! Make a hearts burlap garland.
4. Heart churro crisps
A quick recipe to make Churro crisps with crushed churros and heart silicon molds. Enjoy eating them with hot fudge sauce.
5. Heart sugar cookies
Kneaders sugar cookies recipe. I Love the hearts and sprinkles on the top!
Fill up a mason jar with these cookies. And use printable tags  (You can find some great ones at the end of this post). Makes special handmade gifts.
6. Heart T-shirt
Refashion an old t-shirt with reverse applique. Use fabric paints or embroidery for more creativity.
7. Hearts garland
Cut hearts from old sweaters. And stitch the sides t avoid frills.
Make a DIY Hearts Garland with those pretty hearts. Love the idea!
8. Heart string art
The string art is so popular these days. I love the idea behind these projects.
Make a heart string wall art. Looks adorable!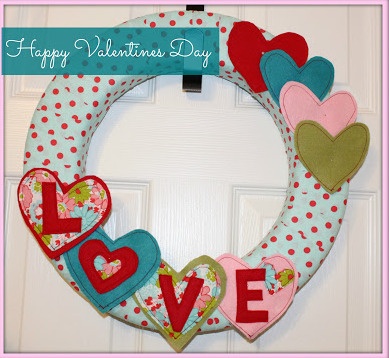 9. DIY heart wreath
Adorable hearts wreath made with felt and fabric.
You will also like:
Looking for more great ideas for your loved ones?