This post may contain affiliate links. Please see our full Disclosure Policy for details.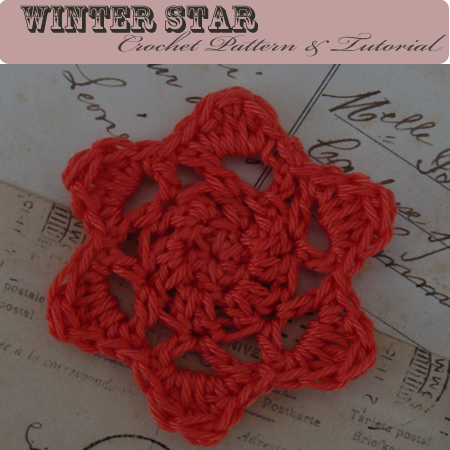 Hello Everyone!
First of all:

A happy 2012

to you all! May this year bring you lots of happiness and creativity!
A big thank you to the wonderful Hani for offering me a spot on her lovely blog today. I am Esther from The Netherlands, also known as Happy in Red. I started my blog as I felt that I really wanted to create things for my friends and family as gifts, instead of just buying everyone gifts from shops. I taught myself how to Crochet last year 
with the help of a library book and some YouTube movies. I also bought a sewing machines and took sewing lessons. And after almost a year of blogging I can happily say that I LOVE to create stuff and I just adore all the creative blogs out there. So much inspiration!
I am a few months away from turning 30 (but lets not mention that, haha) and I am a fulltime journalist. I work for a couple of Dutch websites and I write travel stories for some magazines. So don't be surprised if you see some travel related stories on my blog. I feel very fortunate that I was able to put my passion for writing into a profession. Also, I recently got married to a lovely man (who supports me in all my sewing and crochet madness, how wonderful!).
(Yes, that's me photographing a wallibi!)
On my blog you can find crochet tutorials and my sewing creations and I thought it would be a good idea to share a New Crochet tutorial with you! How about that?
Since it's winter, I made a Winter Star for you and I'd really like you to crochet along.
So let's get started!
Crochet Pattern:

WINTER STAR
Pretty yarn of course (I use mercerized cotton) and a matching crochet hook. Make sure your crochet is nice and loose for this pattern.
What stitches will you be using?
Are you ready? Let's HOOK!
First: chain 3 and make a little circle with a slip stitch.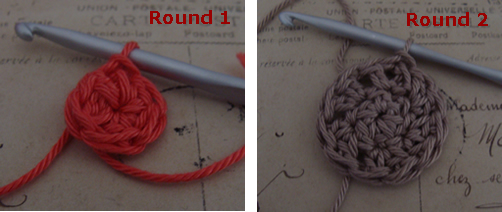 Round 1
Chain 3 (counts as 1 double crochet) and make 5 double crochets in the circle.
Chain 3 (counts as 1 double crochet) and crochet a double crochet in the same stitch. Crochet 2 double crochets in every next stitch until you've finished the round. Finish with a slip stitch in the first double crochet.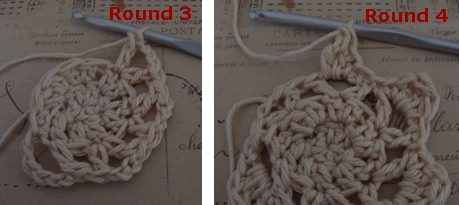 Chain 3 (counts as 1 double crochet), chain 3 and crochet a double crochet in the same stitch. 
*Skip the next stitch and put 1 double crochet, chain 3 and double crochet in the next stitch*, repeat until you have finished the round. Finish the round with a slip stitch in the first double crochet.
In every '1double crochet, 3 chain 1 double crochet' group of the last round put a single crochet, double crochet, treble crochet, double crochet and single crochet. In the spaces between the groups you place a slip stitch. When you finish the round, join with a slip stitch.
And you're done! Isn't it cute?
Thank you for crocheting along with me! If you have any questions? Come see me at
Happy in Red
sometimes! I'd love to have you there!
Thanks so much for sharing this Cute Star, Esther
You can use Winter Stars to make beautiful things like crochet mats, garlands, wall art, accessories, brooches and many more.
Check out Happy in Red for crochet and sewing ideas like:
The post has been truncated for copyright safety. Thank you so much for understanding! "This post first appeared on Craftionary.net"