This post may contain affiliate links. Please see our full Disclosure Policy for details.
This fabulous Fabric Patchwork Headboard was linked up by Erin and I mean wow look at it! The first thing that comes to my mind looking at this DIY Project is that it makes a statement in the bedroom with the added advantage of comfort. I have always adored fabric padded headboard.
Erin shows us how easy it is to make the
Fabric Padded Headboard
 using plywood, foam and fabric. According to her it is fun to make it but only the staple gun part is difficult. She managed to make 40 patchwork pieces (phew! that's a lot of work), arranged and screw each into a sheet of plywood which acts as the back of the headboard for hanging on the wall.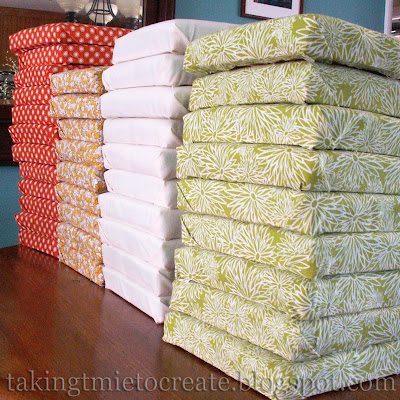 Check out the complete tutorial with all the details to make Padded Headboard at taking time to create. The amount of hardwork and patience required to make this padded headboard using different patterns of fabric is remarkable. But the result is definitely worth the effort. This could be a themed project as well where you use themed fabric designs to match the headboard with the bedroom decor. A use of neutral colors for this work can make this bed a perfect fit in any room over the years.
Also if a part of the headboard gets stain or gets damaged over time you don't have to replace the entire project but just the part of it. With all these thoughts coming to my mind I chose this project to be featured here at craftionary. I wish I had the patience to ever work on a project like this! One day!

You can also make it in neutral colors if you like.
You will also like: