This post may contain affiliate links. Please see our full Disclosure Policy for details.
Baking organization baking supplies tips and tricks for bakers and ideas to organize and stock baking essentials in baking spaces small or big on budget for all size homes and professional bakeries kitchen. This is a post for every baker in the world. Whether you are a professional full-time baker or whether you just bake for the love of baking. Every baker needs to organize their baking zones (spaces, corners and areas). No matter how big or small. I have collected baking organization ideas, tips and DIYs using simple and inexpensive storage solutions. From organizing baking pantry to small baking cart, from baking cabinet to baking drawers. Ideas that will make baking the love of your life.
Baking organization baking supplies
How do I organize my baking items?
Use the cabinets and shelves to the maximum. Some tips include:
Use the cabinet doors to hang baking supplies
If you keep count of inventory use a dry erase board
Use more shelves to utilize the gaps in the cabinets
Store taller items vertically
Use tension rods or magazine racks to divide baking supplies
Use a tackle box for baking organization
File your cookie sheets
Use drawers to fill your containers
Organize your cookie cutters in a cookie jar
Spice racks are great for sprinkles and decoration supplies
A pegboard comes handy in baking organization
Cupcake liners can be stores in mason jars
Use a kitchen cart
How do you store baking tools and equipment?
Use dry cupboard or pantry to store baking tools and equipment. For the baking utensils kitchen drawers and utensil holders serve the purpose well. Do not stack them on baking stone. It becomes too heavy and can lose balance.
How do you stock a baking pantry?
The most essential ingredients that every baker needs are:
basic flour
eggs
baking soda and baking powder
sugar, honey or molasses
basic salt
basic dairy
oil, butter or shortening
extracts
flavorings
spices
Baking Organization Ideas For Pantry
Organizing All Your Cake Stuff by Cake Central.
A pictorial that has all the labeling, on what has been kept where and how. If you already have a baking room and need ideas on how to organize it than you will like it.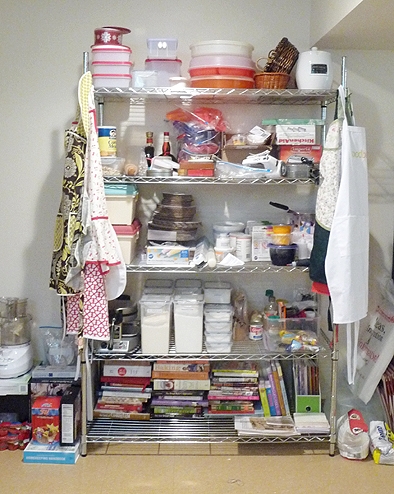 How to Build a Baking Pantry by Brown Eyed Baker.
If you're planning on starting a baking business, than this DIY Baking Pantry is a must watch for you. It has 3 step instruction based organizing techniques on building and filling your baking pantry with the right thing at the right time
Pantry Organization by Design Improvised.
 Clever and helpful tips can definitely bring a twist to your baking pantry, especially when it is your first time owning a pantry. Use baskets, labels, jars and large containers for a neat and clean space.
Essential Ingredients and how to stock a baking pantry? by Brown Eyed Baker.
Learn what to keep and what not in your baking supplies pantry. If you are a baker by soul than the ingredients listed in the post should not be ignored.
What is a baking station?
Baking station is the space where you display all your ingredients and equipment to bake. The most important is to plan where you want to place your baking station. Baking station should have enough space to put mixing bowls, measuring spoons, canisters with ingredients. Another option to consider is an open shelf beneath your countertop for placing baking supplies.
Cabinet ideas for baking organization and station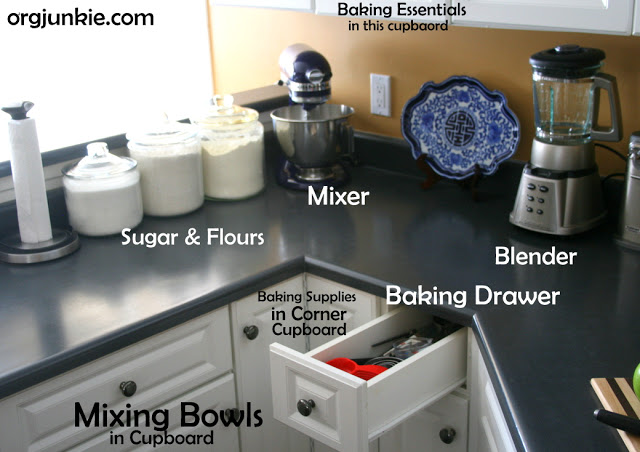 Baking Zone Organization organizing baking supplies in the kitchen by org junkie.
Not owning a pantry does not mean you cannot organize your baking essentials. Learn how to set up a section in your kitchen for all your baking supplies to be up to date and ready to use.
How do you organize baking cabinets?
There are many ways to organize baking supplies in cabinets like:
Use air tight jars
Extra shelves to use empty space
Use lazy susan for small jars and easy reach
Containers are handy with labels
Stick hangers inside the shelves for hanging measuring spoons and cups
Stack mixing bowls
Use file organizers for container lids
How to Organize Your Baking Zone?
Baking zone organization by On Sutton Place.
Learn how to put your baking essentials in the right order of access. For example, since the measuring cups and mixing bowls are used more commonly than powdered sugar or brown sugar than they should be on the bottom shelf.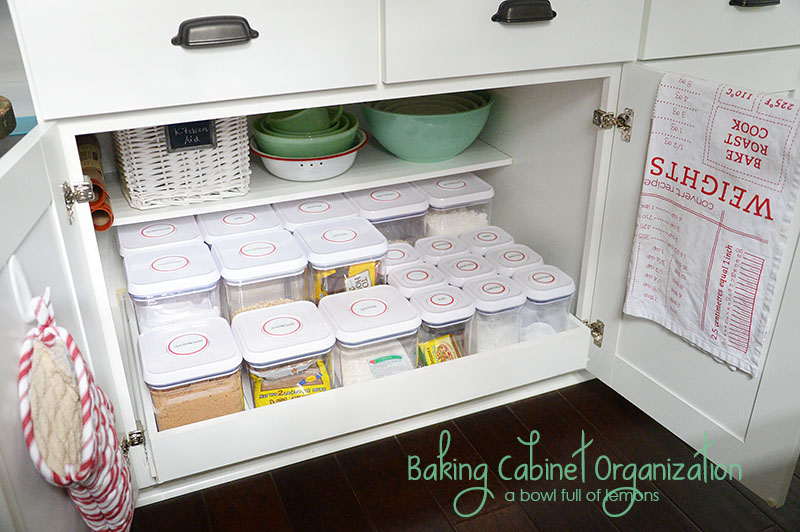 Baking Cabinet Organization by A Bowl Full of Lemons.
A cabinet can hold all of your baking supplies. Learn how to use containers wisely and which ingredient should Cgo in which container.
Organizing Baking Cabinet with Free Printable Labels
Storage sources creating baking cabinet by The Creativity Exchange.
A small pantry can be utilized in a better way than we imagine. Learn how to utilize little spaces in your pantry to organize your baking supplies.
Organized Baking Cabinet by Two Twenty One.
Don't like that clinging and clattering of the utensils hanging on the door whenever you open the cabinet doors? Then this is a better idea for small utensils.
Baking Cabinet Revisited by My So Called Home.
You don't organize a cabinet just for show, you organize your baking cabinet for ease of use too.
How do you organize baking drawers?
Use trays, dividers and separators to organize baking supplies in the drawers. Use baking drawers to store:
Small things like icing tubes
sprinklers
cookie cutters
baking tools
measuring cups
measuring spoons
baking trays
baking liners
butter paper
sprays
food coloring
foil
baking pans
Baking Section Organized by Cape 27 Blog.
If you have a phobia from those back aching lower cabinets, then learn to utilize them for your baking essentials and not let it be a hassle. Use of separators, roll out shelves and baskets is a total life saver.
DIY Bakers Supplies Ideas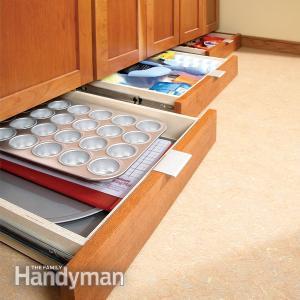 Build Under Cabinet Drawers to Store baking Equipment
How to build under cabinet drawers to increase kitchen storage by Family Handy Man.
If you have no space in your kitchen for your lovely baking equipment, than you can simply build an entirely new space for them right under your cabinets with this neat DIY.
Use kitchen storage cart for baking organization

Kitchen storage cart by Lowes.
A baker can never have enough space to store their baking goodies. Invest in a cart or trolley with casters or make one.
Create a Baking cart by Through my Front Porch.
Not always do you need to use everything from your baking pantry in the kitchen and sometimes you might even forget to bring something and have to rush back to the pantry. A rolling baking cart is great to avoid such discomfort. This one is from IKEA and is very popular for organization.
More Baking Organization Ideas
Great Storage Container for Baking Essentials by The kitchn.
A complete guide to different types of containers that are cheap and handy to use for storing baking supplies.
Use spice rack and spice jars for storing sprinkles by Bakerella.
Organize the Dry Baking Essentials in air tight jars.

Magic decal transfer tutorial by The painted Hive.
The emphasis of the post is more on durable magic decal paper which has been used for labeling the jars, however the idea of using air tight jars for dry baking essentials is wise.
Organizing and Storing Baking supplies
Tips to organize your decorating and baking supplies by Food Network.
These 7 tips might just be your ticket to having an organized baking section, room, pantry or a cabinet. Just follow these tips and no matter the size of the area you'll be organized in no time.
The Best Way To Store Tips
Store decorators tips by I am Baker.
Use containers for storing and protecting decoration tips and label the tips for easy reach. Some ways include using jars, trays and even bead boxes.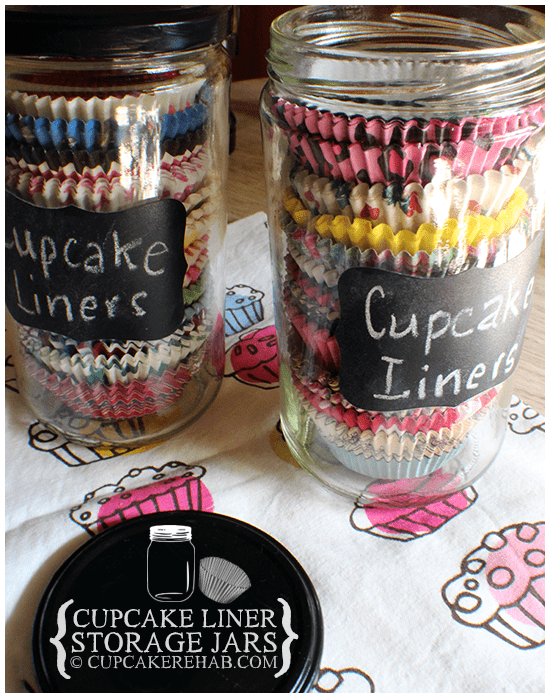 Cupcake Liner Storage Jars by Cup Cake Rehab.
If you love collecting cupcake liners like my sister does, than this technique of storing your liners in a jar is tried and tested way of protecting them from getting all wrinkly, teary or dusty.
Update: Some links were broken and therefore removed. If you come across them leave in the comment.
You will also like: