This post may contain affiliate links. Please see our full Disclosure Policy for details.
Overview of Edmonton to Jasper road trip
This post is about Edmonton to Jasper road trip, 2 days itinerary covers top things to do in Jasper National Park and best scenic sights for hiking and pictures. It includes personal experiences of a first timer going from Toronto on a family road trip. After a long research and locals recommendations top sights and best things to do in Jasper National Park have been planned to make for most of the experience. We cover scenic sights like Maligne lake, Maligne Canyon and Medicine Lake on one side; and Valley of the five lakes, Mt. Edith Cavell, Athabasca Falls and Columbia Icefield Tour on the other. Famous places like Miette hot springs were closed due to covid-19 restrictions. We missed Jasper skytram because we didn't book in advance and waits were too long. You will also find Jasper hotels and Jasper restaurants opinion here.
Table of content:
Jasper National Park first time experience
Edmonton to Jasper road trip 2 day itinerary
Why we choose Edmonton to Jasper instead of Calgary to fly?
Rented a car for Edmonton to Jasper road trip
A little overview of Alberta
How we planned our Alberta itinerary?
Edmonton to Jasper National Park Admission Fees
Travel Jasper Itinerary – Visit Jasper top sights in two days
Things to do in Jasper
Attractions to visit in Jasper
Best attractions for families visiting Jasper park
Places on our things to do in Jasper list but we couldn't do
Best hotels in Jasper
Best restaurants in Jasper
Edmonton to Jasper road trip 2 day itinerary video tour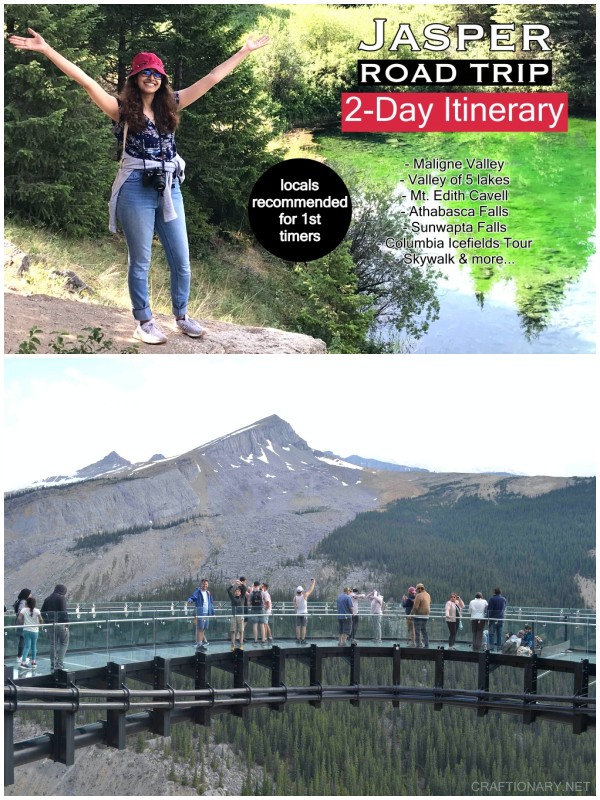 Jasper National Park first time experience (Edmonton to Jasper)
When things started getting better back in Canada after the covid-19, we planned to travel local and decided to visit Alberta for 9-days. We plan to take a road trip from Edmonto to Jasper in this 2 day itinerary. From the word of mouth, I knew about Jasper and Banff being the most scenic National Parks in Alberta. However, like always I did some research. My goal was to not miss anything popular and must-see in these most popular cities located in the Western Canada.
Edmonton to Jasper road trip 2 day itinerary
You will find hours-worth of research results for Edmonton, Jasper, Banff, Calgary, Drumheller and back to Edmonton on a direct flight from Toronto Pearson Airport in the upcoming series where I will cover all these locations in Alberta.
Why we choose Edmonton to Jasper instead of Calgary to fly?
Firstly, we got a good deal on direct flight from Toronto to Edmonton on SWOOP. Secondly, Edmonton is the capital city of Alberta and is famous for the largest indoor mall in the North America. We wanted to experience that place and visit the downtown for the latest Muttart Conservatory as well. Thirdly, due to Calgary Stampede most of the direct flights to Calgary were very expensive. Since, Banff and Jasper were going to add up to our expense anyhow, we wanted to save where we could. Our flight from Toronto to Edmonton was 4 hours long.
Rented a car for Edmonton to Jasper road trip
We rented a car directly from the airport and took a round road trip starting from Edmonton. We reached Edmonton in the evening and drove around the downtown and went to Muttart conservatory on our first day.
A little overview of Alberta (Edmonton to Jasper)
Alberta is a province in Western Canada. It has a diverse landscape, ranging from mountains, prairies, desert, badlands to vast forest areas. It has more than 600 lakes, mineral deposits, historical dinosaur fossils and so much more. The famous Canadian Rocky Mountain lies in this province and has glaciers and most scenic Columbia Icefield.
How we planned our Alberta itinerary?
We allocated the days according to excursions, activities and places that were a must on our list. I mainly relied upon trip advisor for list of places and reviews to decide places we wanted to visit. Another great site to check is travel jasper. I used google maps off course to allocated time based on distance needed to travel and food breaks. I will share all the information here for each city. Once we reached there, the travel guide books and locals recommendations at the reception helped finalize the trip.
Our days allocation in road trip around Alberta:
Jasper (2 days)
Banff (3 days)
Calgary Stampede (1 day)
Drumheller (1 day)
Edmonton (2 days)
Edmonton to Jasper National Park Admission Fees
The Jasper National Park offers day pass, family pass and discovery pass amongst the most popular options. For a family of four (2 adults and 2 kids under 17), staying in Jasper National Park and Banff National Park for a total of 4 days and leaving before 4pm on 5th day, the individual adult pass for 4 days worked best. If you plan on staying for more than 4 days, family pass is a better option.
All Jasper National Park Admission fees and options can be found on Canada's official website.
Travel Jasper Itinerary – Visit Jasper top sights in two days
Our itinerary includes Maligne Valley on first day and an extensive list on the second day. Read below for more details.
Things to do in Jasper
There are lots of activities for adventure seekers in Jasper. Some of the most popular ones include:
Hiking
Nature and wildlife tours
Winter sports
White water rafting
Climbing mountains
4WD Tours
Kayaking
Rafting
Walking tours
Biking
Camping
Lodging
Stargazing
While there are many things to do, there are also many attractions to visit. Jasper has a lot of hiking places and its kilometers of hike to reach each scenic spot and admire the beauty. So, our plan focused on hiking for most of it and see all the popular attractions. Anyways, we can do most of the activities in Toronto too, but the nature is what we went to see mainly.
Attractions to visit in Jasper
Jasper has a lot of amazing sights to offer for the visitors. Our aim was to maximize the experience in the most vacation-way possible. So, I got to do some research. The internet has a ton of information and experiences of people. It was so confusing for a first timer like myself that I couldn't rely on the videos and posts about suggested best places. I wanted to see a list and decide for myself. So, my only most useful resource was the trip advisor and google. Here I will them all like I did for our family, in the hopes that it helps you too. I listed all the places based on the reviews and popularity and used google maps to create a 2-day itinerary.
The following is the list of top attractions in Jasper:
Valley of the five lakes
Mount Edith Cavell
Athabasca Falls
Sunwapta Falls
Columbia Icefield highway road trip
Athabasca Glacier
Columbia Icefield Skywalk
Maligne Canyon
Maligne Lake
Medicine Lake
Jasper Skytram
Pyramid lake
Lake Patricia
Old forte point
Lake Annette (good for swimming)
Edith Lake (good for swimming)
Miette hot springs
Whistlers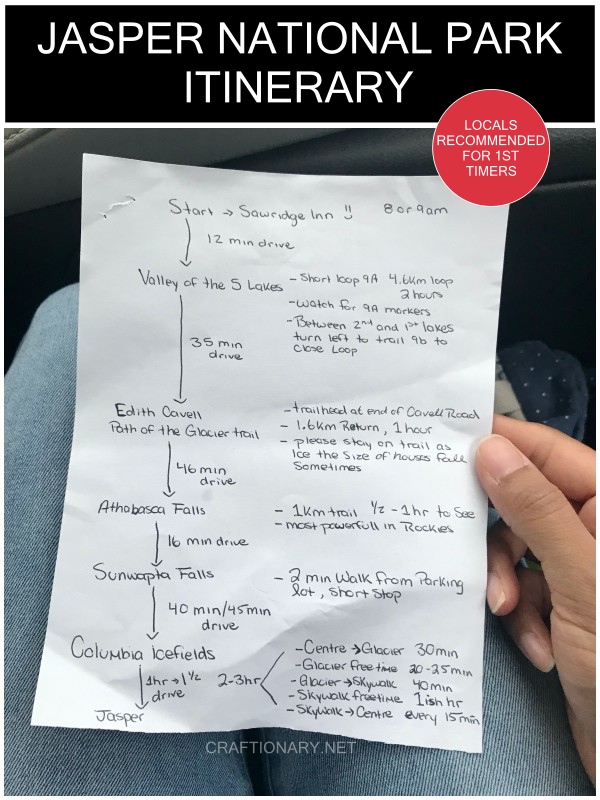 How we planned Edmonton to Jasper road trip
Using the above information I finalized my trip. Day-2 of leaving from Toronto, we drove from Edmonton to Jasper. It is almost a 4-hour drive on Yellowhead highway. But the drive is so relaxing and scenic, you will love it! We took a stop at Walmart in Edmonton city before we began our trip to stock up on snacks, water, and drinks for the way. Making sure we packed up enough to last us 5 days in Jasper park and Banff park. Finally, we reached Jasper National Park in the late afternoon and on the way, we stopped at Edson for lunch and coffee. First we visited the Maligne valley – Medicine Lake, Maligne Lake and Maligne Canyon that day before we headed to check-in to the hotel and call it a day.
Best attractions for families visiting Jasper park
We stopped at Jasper house and Tablot lake before we visited Maligne valley – Medicine Lake, Maligne Lake and Maligne Canyon on the first day.
On the second day, we started our trip with Valley of the five lakes, then went to Mt. Edith Cavell following down the Columbia Icefield highway enjoying the most scenic views to Athabasca Falls and Sunwapta Falls. Finally, reaching Columbia Icefield Tour for Athabasca Glacier and Columbia Icefield Skywalk before time which we had booked a day in advance through our receptionist at the hotel. Let me share some beautiful details about each of these places below:
Jasper House
A short walk from the highway you reach the spot looking over Athabasca river for this historical site where the Jasper House used to stand. The pictures show how it looked.
Tablot lake
This lake comes on the way to Jasper park and the water is not very cold and the kids can swim in it.
Maligne Valley
A drive through the Maligne Valley you can get to the Maligne Canyon, Medicine Lake and Maligne Lake. While you plan to visit these places keep in mind that you need to allocate most of your time for hiking at the Canyons. You will also need some decent amount of time to walk at the Maligne lake as well.
Medicine Lake
My top recommended spot in Jasper is the Medicine Lake. It is the most underrated lake in my opinion solely because it is extraordinary, beautiful. It is famous for the disappearing phenomena (insert information from the medicine lake board here).
Maligne Lake
At the Maligne lake enjoy a scenic walk through the woods on the side of the lake. You can also relax on a boat cruise on the lake or do kayaking here. This place is also good for biking.
Maligne Canyon
At the canyons, get ready to hike. This place offers 6 bridges to enjoy the rushing white water flowing through the canyons. On the way to reach each bridge you explore beautiful caves, waterfalls, water caves, water leaking through the grounds and so much more.
We personally started at the 2nd bridge and hiked all the way down to the 4th bridge. We wanted to go on, but it was late evening and we got hesitant thinking about the grizzly bear encounter. Anyhow, we made our way back up the canyons and exited from the 1st bridge. While driving back from the Maligne Canyon we saw a sign for 6th bridge. Curious much we decided to drive the route and ended up at the sight of the 6th bridge. It is a beautiful place to have a nice picnic as well.
Valley of the five lakes
This hiking spot was recommended to us by the local receptionist at our hotel. We are so glad we went there. This place has an amazing hike, and, on your way, you can discover five unique and beautiful lakes. The lakes reflect mirrored image on the sky, emerald color, and the famous turquoise color. Which lake is which, I leave it on you to discover when you go! There are two routes whether you start at the first lake and go around, or the other way around. We chose to go to the fifth lake making it backward to reach the first.
Mt. Edith Cavell and Angel Glacier
This mountain is famous for its height. It is the highest peak in the area and the drive to this famous spot is like driving in Switzerland. Once, you reach the peak walk and hike a little to the angel glacier. The angel glacier is named as such because it looks like an angel lying on the mountain with wings open towards the sky. Touch the ice-cold water here when you cross the bridge and get refreshed.
Athabasca Falls
After seeing the above-mentioned top sights, we drove to Athabasca Falls which was right in our way to the Columbia Icefield Tour. This spot has hiking trail too, but we just enjoyed the view of the Athabasca Falls. Cherry on top was the fact that it started drizzling, making the experience of mist, and rushing water touching our faces even better.
Sunwapta Falls
This fall was more like a check point given the comparison that I would unconsciously do anyhow with the Athabasca Falls. But if you have time take a stop to see it and perhaps snack on some food.
Columbia Icefield highway
The beauty and scenic view of this highway is so movie-like. You must visit to believe me. We reached the Columbia Icefield Tours which took us to the Athabasca Glacier and the skywalk. You can see five glaciers standing at the information center at this spot. Make sure to find them when you visit.
Athabasca Glacier
A bus took us to the spot where the famous Ice Explorer took us on an adventurous and informative tour, reaching the Athabasca Icefield. Right under the Athabasca icefield on which we were standing was the Athabasca Glacier. The tour is full of valuable information about the icefields and glaciers and how they come about to be? Also, about the history of the famous Columbia Icefield and Glacier.
Columbia Icefield Skywalk
Coming back from the glacier, the bus took us to the skywalk. My favorite part was the recorder full of valuable insights about the sight. There were boards with codes and once you feed those codes into the recorder, it played related information. At the skywalk, you can see the landforms, lake and learn about the history of fossils found in this area. Not to mention, the views from the skywalk!
Jasper National Park Town (Edmonton to Jasper)
We ended our day driving and enjoying the evening sun back to Jasper to stay for the night. We went for a short walk on the street, ate food and called it a day.
Places on our things to do in Jasper list but we couldn't do
Miette Hot Springs because it was closed due to covid restrictions.
Jasper Skytram because the waiting time was very long for on-sight visitors. We didn't book it in advance.
Best hotels in Jasper
Jasper is an expensive place, mainly because it is sole tourism. You get the most basic hotel room for an average $300 a night. We wanted to book a decent room and looked on hotwire for good deals. We stayed at Sawridge Inn Jasper that we booked Jasper and Banff hotels in advance before leaving from Toronto while the rest of the trip we booked 2-3 days before leaving us enough room to decide whether we need to change our plans and increase days in these parks. But for most of it we stayed with our plan.
Best restaurants in Jasper
There are all forms of dining options in Jasper. However, we have some preferences that are not easily available everywhere. So, we decided to eat veggie instead. For all the options for people who choose Halal or Kosher food traveling to Alberta, check out my post about what we ate in Alberta while on vacation. I will be updated this here soon. While in Jasper, the locals recommended us to try Jasper pizza. There are two indian restaurants Agni bistro and Jasper curry place in Jasper town.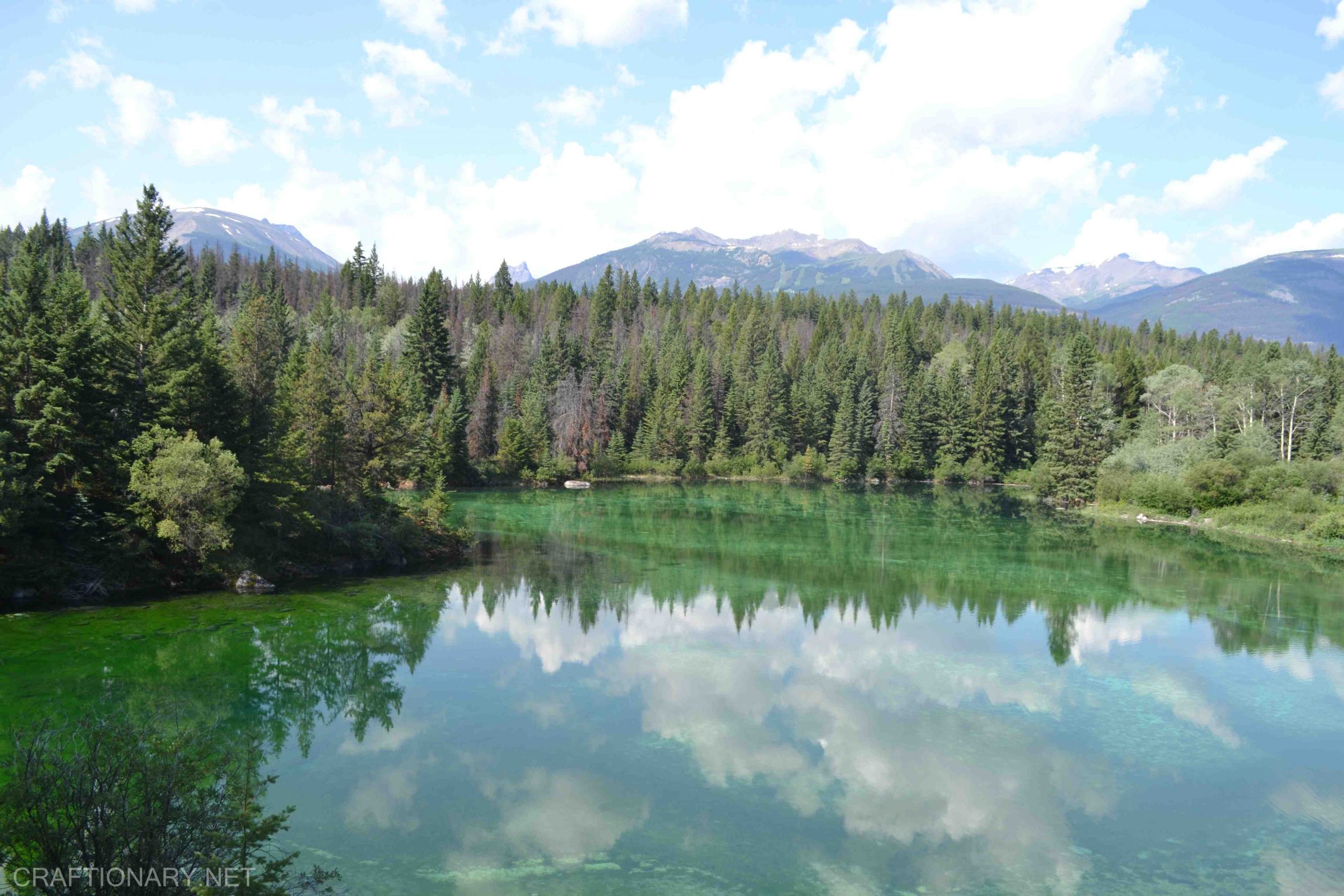 That's all for our Jasper National Park experience traveling Edmonton to Jasper by car on a road trip for 2 days itinerary. I will soon update you with our Banff 3 days adventures which also includes white water rafting with kids.
Edmonton to Jasper road trip 2 day itinerary video tour
Till then take care and enjoy our video tour from Edmonton to Jasper.
You may also like:
Camping tips and hacks
30 Camping tips and hacks using essentials you can find at home
Summer beach activities