This post may contain affiliate links. Please see our full Disclosure Policy for details.
Valentines Day handmade gifts. Do you celebrate Valentine's Day?
I thought it would be fun sharing Valentine's Day ideas from the past, while i'm working on the new one.
A few simple and quick ideas along with tutorials for kids and ladies.
Valentine's Day ideas For Kids
Valentine's Day Frame and Card (Kid's craft)
"I Love You"
 handmade kid's card
Vinyl Quotes Valentine's Day
Candles
Valentine's
magnet hearts
for Him or Her
Hearts
bookmark
made with paper and embroidery thread
Tag
Card
for valentine's day (1)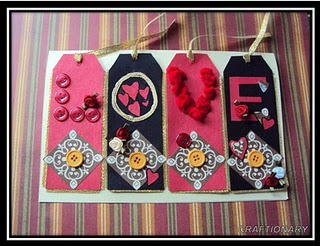 Tag
Card
for valentine's day (2)
Roses made with nylon or stocking net wrapped around wired petals
I working on a
Valentine's Day Fun Activity 
I'll be sharing soon!
The post has been truncated for copyright safety. Thank you so much for understanding! "This post first appeared on Craftionary.net"