December 12, 2013 By Hani Shabbir Leave a Comment
Hello Everyone!
Welcome to "The Weekly creative" party.
The Thursdays Weekly Creative
Now instead of linking up at six different blogs.
You can simply link up with any of your favorite blog and make up the link list at all.
Isn't that amazing!
Let's start today's party with some of the highlights from last week.
But before that I want to Thank You for linking up.
You all are awesome!
Thursday Weekly Creative and Features.
I also love to feature your projects on Facebook and Pinterest.

So more people can see and love what you make!
{Most Viewed}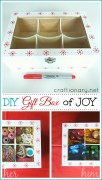 December 10, 2013 By Hani Shabbir 1 Comment
Don't you just love giving handmade gifts to your loved one! These gifts are not only unique but they are special. Because they come straight from … [Read More...]