Easy felt hair claw clips 
I have one of the Most Easy Hair Accessories DIY tutorial to share with You today
Make cute 
hair
claw
clips
for Your Beautiful little girls 
Let me share a little secret, I love wearing them  Would you mind wearing some cuteness?
They sure look pretty! Make some for yourself and your girls
Hair claw clips
Easy refashion with felt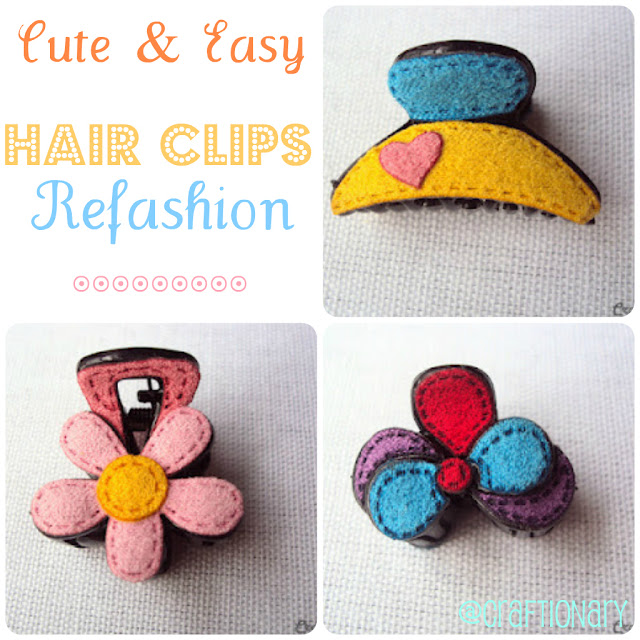 I should have categorized this projects, as a tutorial less craft
Seriously, this is so easy  You just need a picture without words to make yours
This is an inexpensive project  You just cut some felt and decorate
You Will Need:
Claw clips (obvious already : ))
Felt or Fabric
Sharpie or any marker (to draw lines)
Small scissors and White glue (For cutting and sticking)
(white glue is also called mod podge)
Simply take a piece of felt and place it on the claw clip for size  Trace around and cut to size
Double check the sizes for error
Note that
the claw clips are very small  You will have to patiently cut such small shapes
Now simply brush white glue (mod podge) on the claw clip  And press the felt pieces in place  Let it dry!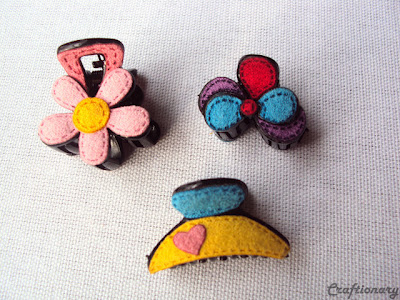 When the claw clip is all dry  Use sharpie or fine-point marker to draw space bars
These give a felt sewing effect  It's kind of fun!
That's all  Your Hair clips are refashioned  And ready to wear
I love how fun, colorful and vibrant they are; for Spring and Summer
And now I have a few beautiful shots to share
I couldn't resist  : )
I hope you enjoyed this easy hair claw clips project
You will also like:
20 Ombre trendy ladies ideas
DIY accessories hanging organizer
20 Easy and cute hairstyles
Looking for more ideas?
Are you on pinterest?
These are updated regularly whenever I find unique ideas