These are the best stencil furniture makeovers.
You will love how creative these furniture makeovers are!
There are DIY techniques and tips to easily spray paint using vinyl.
And a little more detail-orientated ones also.
Like using paint brushes for final touches.
These fabulous furniture makeovers may make you stencil your furniture.
Let's get started with these tutorials:
27 DIY Stenciled Furniture.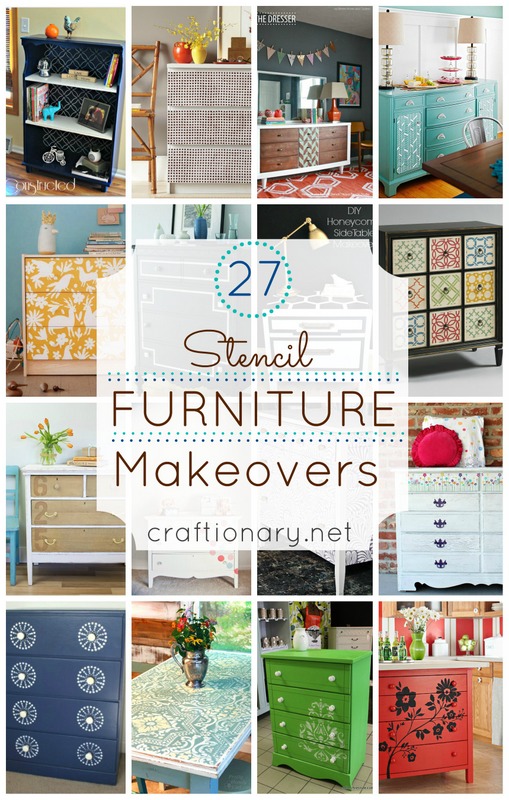 Stencil Furniture Makeovers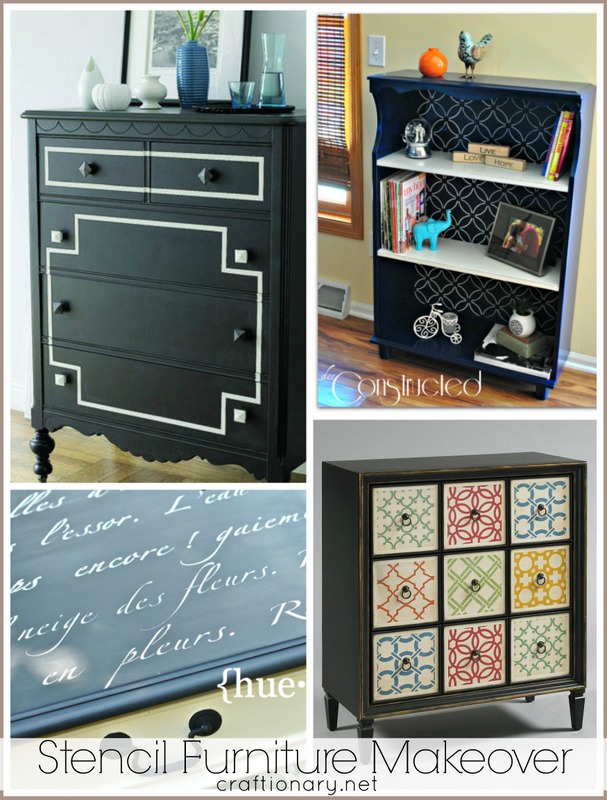 1. Black dresser makeover using painter's tape.
3. Stenciled desk with chalk paint.
4. Artistic furniture makeover with different stenciled patterns on each drawer.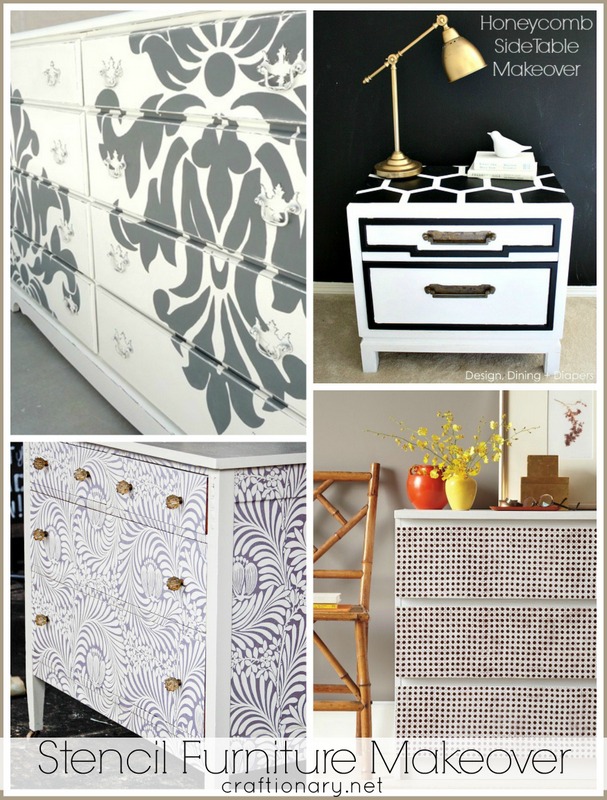 6. DIY honeycomb table using painter's tape.
8. DIY caning furniture, spray paint cane pattern on a dresser.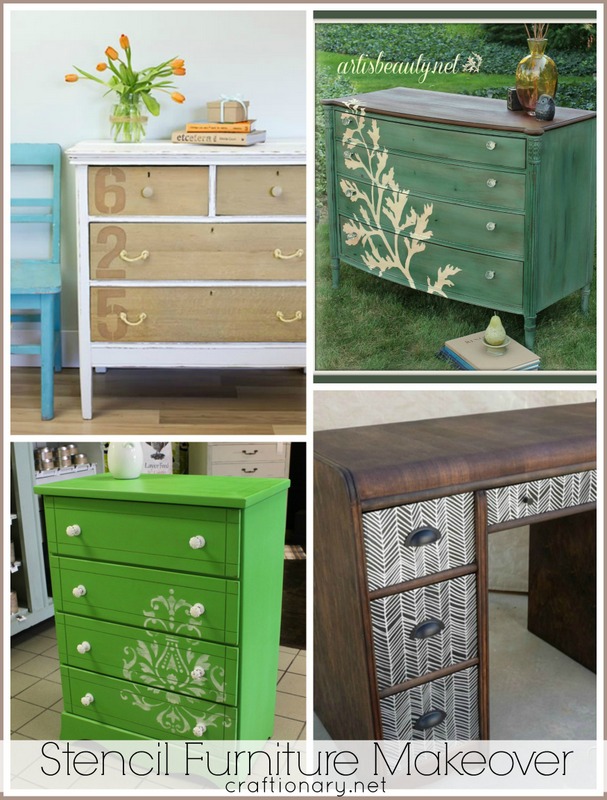 9. Stencil number furniture, great for keeping things organized and easy to access by everyone.
10. Fern stencil dresser with hand painted details.
12. Metallic herringbone table using white paint pen.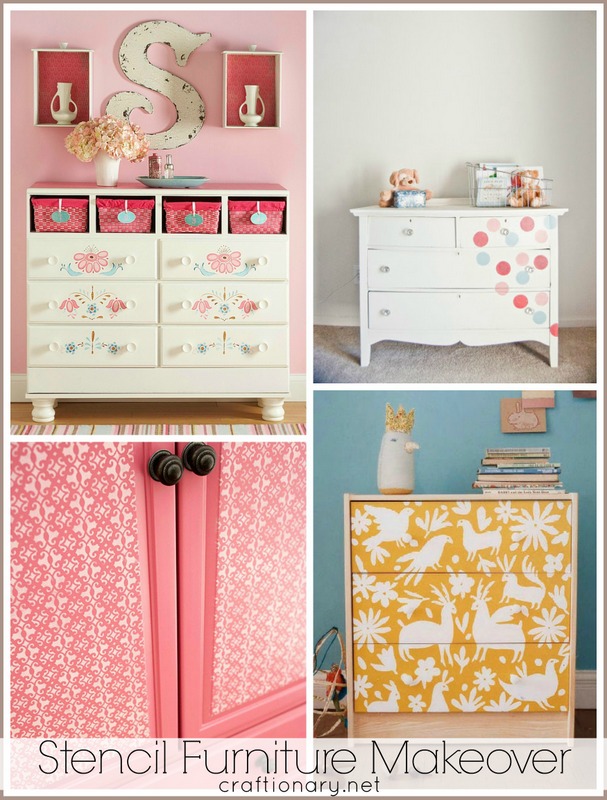 13. Cute furniture makeover for nursery  girl's bedroom in pink.
14. Stencil polkadots dresser using needle point hoops.
15. Stencil armoire

16. Dressed up dresser, fun pattern for kids room.
17. Red stencil furniture, a bright kitchen island makeover.
18. Chalk paint stencil table with hand painted details.
19. DIY side table makeover using vinyl and spray paint.
20. Stencil nightstand makeover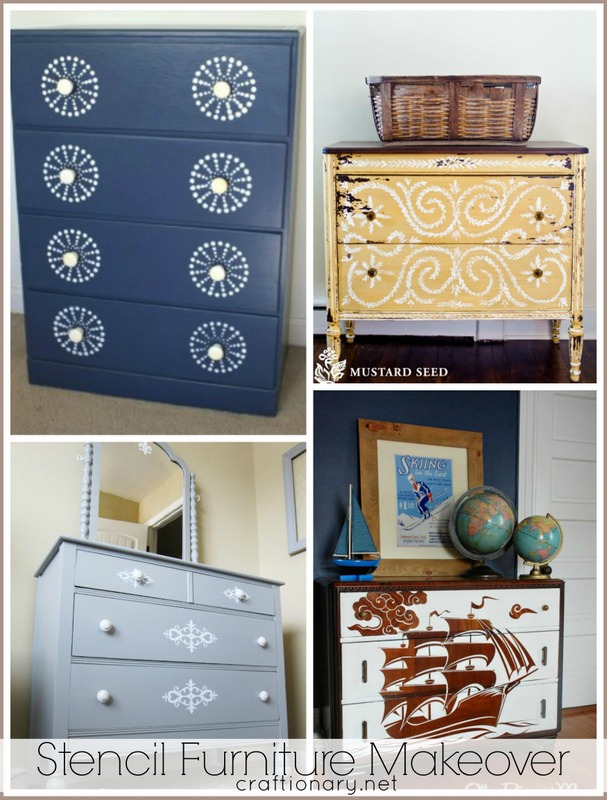 23. Embellishing furniture with vinyl
24. Reverse stencil dresser with vinyl and paint.
26. Turquoise stencil dresser with herringbone pattern, drawn using white paint pen.
27. Stencil flowers furniture with silhouette cut vinyl and paint brushes.
I would love to know which one is your favorite?
My favorite is the turquoise dresser with herringbone pattern.
You will also like:

What color to paint your furniture?
25 Painted Furniture Makeovers

30 Craft Tips

Creative uses for Magnetic Boards
Looking for more great ideas?
Check out tutorials in the category
DIY
.
Are you on pinterest?
These are updated regularly whenever I find unique ideas.