Gel Candles
Learn to make gel candles with this DIY tutorial.
Ice candle
Make this interesting ice candle using a Milk Carton.
Recycle candles
Recycle bottle caps into making candles. All you need is wicks and pour wax on them. And you're candles are ready.
Seashell tea lights
Simply put the wick in the center and pour the paraffin wax. Just like the bottle caps.
Decorative Candles
Decorative Decal Pillar Candles
 Wrap basic white pillar candles with printable paper. A quick decorative candle idea (find free printables also).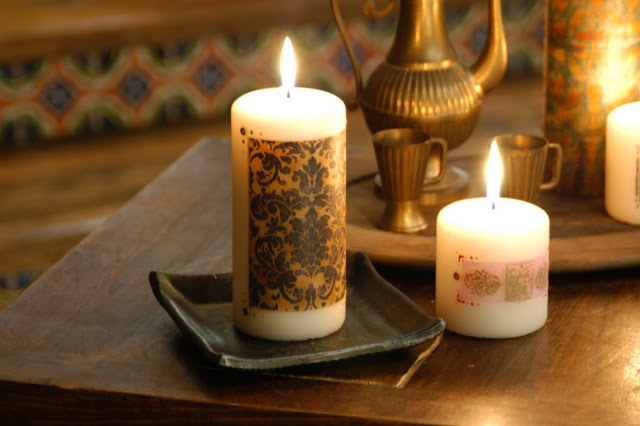 Pillar candles
Make Tissue Paper Transferred Candle
 Transfer ink from printed tissue paper onto candles using hair dryer and parchment paper.
Mason Jar Candles
Great handmade gift Idea. Recycle mason jars into making decorative candles. Think about all the creative ways you can decorate them with!
Soy Candles
Making candles using Soy by recycling tin cans.
Fun idea to use orange peel into making tea lights.
Beeswax Candles
Making candles using Beeswax at home.
Salt Pillar Candles
Simply add a layer of Mod Podge and Roll the pillar candle in Epsom Salt.
Crayon dipped candles
Dip candle in melted crayons for this fun effect.
Candles as handmade gifts
Engage in an activity to draw on tissue paper with markers. And transfer ink onto candles using blow dryer.
Easy DIY candles
Make decorative candles using ceramic pieces, wax and candle wick.
Creative smart idea.
Picture Unavailable
How to make rolled Beeswax Candle.
Even kids can make this candle.
Beach candles
Flower candles
Decorate simple candles with beeswax. Cut leaves of beeswax to make this one.
Tree Shaped Candles
Make candles in different shapes using molds.
Make beeswax egg candle using plastic eggs for Easter.
Seashell candles
Make candles by using seashells and other objects as molds.
Embellished Spring Candles Decorated with doily (left), painted cork pads (center) and tissue paper confetti (right) glued on candle sticks.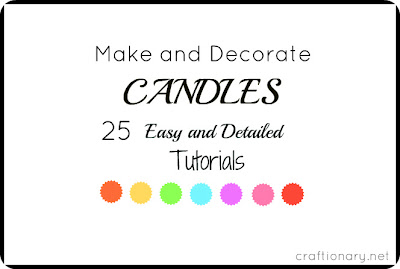 Looking for more great ideas?
Check out our categories to match your specific search at the top.
Updated regularly whenever I find unique ideas.